Do you want to change your haircut? Why not short hair cut? I know not all girls are such daring to have short hair cut because we feel we do not have much options to style short hairs. Don't worry, we are giving you ideas great ideas for short hairstyles for girls.
Which short haircut suites on which face shape?
First of all lets understand which short hair cut would suits you.
With short hair cut every woman can find a perfect cute short hairstyle because short hair cuts suits almost all face shapes and can adapt to many types of hair (frizzy, fine, normal …). as long as you chose the right short hairstyle … Do you have a round face? Adopt a short hairstyle with curls, bangs or a wide strand in the front. But avoid the straight bob or the ball cut (especially if you have a small neck), just like the parting in the middle.
For a woman with a face that's shaped like a downward triangle, the trick to a top hairstyle is to keep the volume on the top of the head and not cut the hair too short. A square with a little length will be ideal for this type of face shape. Women with rectangular faces will also prefer a short cut with volume on top. As for those who have an oval face, you are the lucky ones because all the short hair cuts would suit yous so go for any haircut square, pixie cut, ball cut, bowl cut etc..
Short hairs go well with round or full face but keep in mind that if you are adapting short hair for chubby face then it all depends upon length and styling. Messy pixie or Tapered Afro are best for short hair for fat faces.
If you have thin hair, a short hairstyle is also a good option for you. Adopt the short bob (or the mid-length bob) that you can texturize with styling products such as sprays or mousse. The boyish cut with bangs is also a hairstyle that looks great on women who have thin hair and an oval face.
Short Hairstyles for Girls & Women
If you have Short hair cut it doesn't mean that you cannot do fun with your hairs. Here is these eight easy to achieve short hairstyles for girls and women that would instantly change your appearance. Test them without delay!
Few minutes to transform and energize a short hair cut into cute short hairstyles. Brushes or slicked back hair give us a very chic look . Textured with a styling spray, they have a more casual boyish effect.
If you accessorize them with a headband , a scarf or a jewel, it immediately brightens our face. One can also fasten, waving or indenting if they are long enough , or create a small shell or a side effect hair
1- Pretty Curl
The longer your hair is short , the greater the diameter of your curling iron should be. Other options: use hot rollers or a very fine spray for rendering wavy look .
2- Headband
On short hair , prefer the headbands . Indeed , they have a better grip and less likely to slip. Position them at the top of your head without passing through your hair.
3- A braided effect
As picture , create a false braid crown by wrapping your hair, by strand on one side of the head.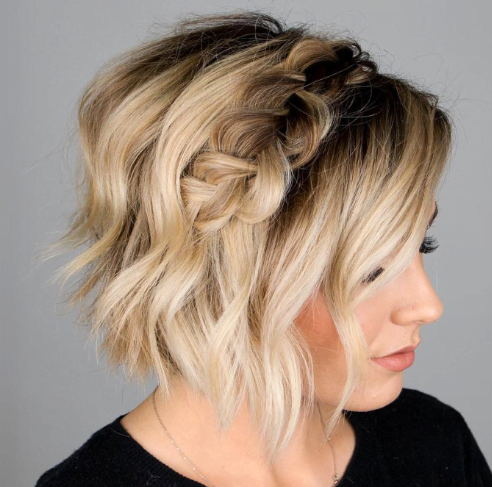 4- Tying a scarf or headband
If you have short hair cut you can also tie scarf or wrap bandana on your hairs. If you choose to use a scarf , place the bow on the side of your face not at back. warping a scarf around hairs is one of perfect short hairstyles for girls during summer.
5- Brushing back
Dry your hair back to create a small shell. Our trick to winning a volume: apply a little hairspray on the roots.

6- Capped / uncapped effect
For this boyish look, working on hair with a texturizing powder. It is applied to the roots with the fingertips .
7- A Retro Scalloped
On wet hair , put forceps bun on each side of your face. Once your hair completely dry , remove them . You get this retro scalloped effect .
8- Slicked Back Hair
We draw a line on the side ( around ¾ of the face ) separate plate section with gel or wax . This provides a chic hairstyle and a trendy hairstyle.
These are some recommended ideas for short hairstyles for girls and women. These hairstyles are trendy, modern and sophisticated. All hairstyles are easy to do.
Short Haircut Ideas Trends 2020 | Short Hairstyles for Girls