Runway Makeup trends – What we want in the coming Spring Summer 2016 ?
Here we present top Runway Makeup Trends, which we have spotted during the fashion week parades.
1. Pastel Eyes
Pastel colors gives you smooth magical look therefore pastel shadows have swept the eyes this season. Pink , sky blue, lime green or orange tangerine … Whatever the color , they provide immediately a romantic and poetic look. Wear it without moderation , in next spring-summer 2016 .
This look was Spotted at the catwalks of: Chanel , Dior, Rodarte , Diane von Fürstenberg .
2. Electrifying Eyes
Version glitter liner at Dries Van Noten , neon eyeshadow Missoni or arty design at Maison Margiela , the makeup artists had the watchword of pulsing the look. One of the trends of Runway Makeup Trends to follow closely.
Spotted at: Missoni, Dries Van Noten , Maison Margiela , Giambattista Valli
3. Eyelash Manga doll
Exit the single layer of mascara too discreet . Next summer , eyelashes will do their show in XXL mode, well separated , with false eyelashes and flashy pigments. On arrival: a deceptively wise doll look, which will make the evening feel.
Spotted at: Mary Katrantzou , Marni , Louis Vuitton , Marc Jacobs
4. Gold printing
In eye shadow for a flashy look, on the lips for a shiny lips or fingernails for glittering claws, gold solids will radiate all-out the golden skin of summer 2016 .
Spotted at: Alberta Ferretti , Prada, Kenzo
5. Youthful freshness
Defects erased + fishing + blush touch of glow = the formula for a radiant complexion , repeated a parade together by makeup artists to shape a mischievous maiden in bloom … refreshing effect guaranteed .
Spotted at: Gucci , Chloe, Versace, Michael Kors Collection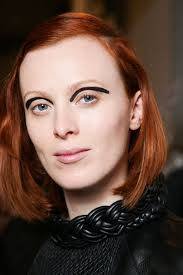 6. Bold Liner
Bolder than ever, the eyeliner to the accuracy and the ball almost geometric design creates a highly structured look. What upgrade the looks of summer evenings.
Runway Makeup trends spotted at: Fendi, Céline
7. Ultra -mate mouth
From New York to Paris , via Milan, the makeup artists were given the word to mouth on a decline vamp mode, via a 100% matte red . Their favorite color ? The carmine red , obviously …
Spotted at: Victoria Beckham, Burberry, Topshop, Vanessa Seward
8. Sheer beauty
The idea : combining a opalescent dyed an orange blush , to create an evanescent beauty, livid limit, like the Saint Laurent fashion shows or Erdem .
Spotted at: Hervé Léger by Max Azria , Saint Laurent , Erdem , Sonia Rykiel
9. Minimalist
What could be more enjoyable in summer than walking bare skin , stripped of trace pigments ? This is the attitude adopted by some designers , Isabel Marant and Stella McCartney in mind, who bet on a super -easy and 100% natural beauty .
Spotted at: Stella McCartney, Isabel Marant , Ralph Lauren , Hermes
10. Eyebrow forced
Seen on the Balmain show and Dolce & Gabbana , well shaped eyebrow, or an exaggerated strand will be more than ever the coast next summer. What immediately give more intensity to the eye.
Runway Makeup Trends have been Spotted at Balmain , Dolce & Gabbana, Christopher Kane, Proenza Schouler