Attaining a look of dazzling red beauty on Valentine's day is the perfect opportunity for a love to either be forged or reinforced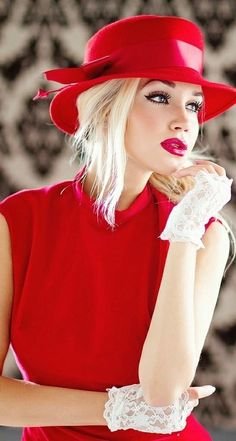 Valentine's day is a very special occasion all over the world. On this day, love is celebrated and this provides a distinctive and romantic atmosphere that can be enjoyed by all. For many women, attaining the best possible look on that day is exceedingly important and for good reason – Valentine's day is the perfect opportunity for a love to either be forged or reinforced. That is why attaining a look of dazzling red beauty is important for a lot of women and girls. While some believe that this is impossible to attain, the truth is that using a few simple tricks and makeup moves from professional makeup artists can transform anyone into a real Valentines beauty. More importantly, all of these are connected to the color red and its perfect symbolism when it comes to love and passion. Here are the most important ones that will aid in that transition.
Going Light Lipstick
For most people, men included the first association that comes to mind when someone mentions the color red and makeup is the lipstick. Even though it is important for a look of a red beauty, going for the screaming tone of red will rarely produce the wanted results. In fact, this is most often the case when it comes to Valentine's day when thousands of women have the same idea. That is why a real red beauty will go for a softer shade of red, like cherry or pale brick, which will incorporate the theme into their lips, but not overdo it so that it looks tacky or untactful.
Attaining a Glow
One of the most important allies when it comes to a look of a red beauty is the natural or environmental light. A smart makeup uses light to enhance its features and does not work against them. This is why dark eyeshadow should be avoided, and instead, a liquid highlighter should be applied under the foundation. With it in place, the makeup will attain that airy feeling which simply looks like it is emitting light from inside. In reality, it is simply reflecting some of the light, but still gives the feeling of a glow. This way, the red tones can become even more vibrant.
Adding Color to Lines
While eyeshadow should be kept light and subtle, the eyeliner should attain the exact opposite trait. When going for the red beauty look, most of the makeup colors will be made out of neutral or red tones. A single exception is an eyeliner which can be used as a small but important dash of color. Here, a woman can really go strong and chose whatever color she prefers, even those which otherwise do not go with red tones. The idea is that eyeliner takes up very little space, making the same color barely visible. But, it will still be there, giving the makeup a much-needed diversity. The same hint of color will not only produce a more vibrant makeup but allow the red tones to be underlined and presented in a much more prominent fashion.
Following these tips and little secrets of professional makeup artists, every woman will be able to become a dazzling red beauty for that special Valentine's day.
Author Bio
I'm Pauline Youngblood, founder and president of Youngblood Mineral Cosmetics. We offers high quality minerals cosmetics that enable you to show-off a fresh and vitalized look. We help to give the desired make up effects and keep the skin health and revitalized with Natural Creme Powder Makeup Foundation.