The best recipes for Valentines Day Dinner
Do you really thinking about Valentines Day Dinner at home ? For those lovers who want to conquer your partner with all your senses , we have made a selection of the best recipes for dinner for valentines day.
With our selection of recipes you will not only have Romantic dinners but we give you the best advice so you can celebrate love every day!
Valentines Day is a time and a celebration for the most special person. Most couples opt for a Valentines Day dinner in candlelight , but the truth is that we have many options from the menus we have selected and will serve to surprise our Partner on February 14 , not by just a one meal , but also with desserts.
We have selected the best recipes so you can find everything you need to enjoy a celebration dedicated to love and very magical person:
Dinner for valentines day – Starter Recipes:
There are many options from which we can choose to enjoy some good starters. One of the fastest , economic and surprising options if you know how to combine flavors and textures are the couches , that if you add a few glasses of white wine with good decoration ( adequate with candles , flowers and a personal touch lighting) have the perfect entry.
Baked provolone cheese
Baked provolone cheese is very easy to prepare and is incredibly good. All cheese lovers Prepare to enjoy!
With only four ingredients we can get an exceptional, perfect dish to enjoy a romantic valentines day dinner with your beloved . Ah ! and perfect for those who have not mastered the kitchen but want to impress , this is good, very good.
Do not make ready this dish before your loved one at home because it has to comes out of the oven to eat it otherwise it will lost all grace but the good thing is that it is very and easy and will take very little time to prepare.
INGREDIENTS:
Slice of provolone cheese
2 tablespoons tomato confit or salsa
Spices: oregano , basil , thyme , etc.
Olive oil
PREPARATION:
Preheat the oven at 200 °.
In an ovenproof container as same size of slice of provolone cheese, pour couple of tablespoons of confit tomato sauce or ketchup at the bottom of container
Top slice of provolone cheese with spices you have chosen with a small splash of olive oil.
Now , straight to the oven for about 15 minutes before serving. If you want to accompany with a toast.
I have nothing more to say … Enjoy!
Salad recipe for valentines day dinner:
Here I choose a best recipe for salad that you can prepare for dinner for valentines day.
Spinach And Strawberries Salad:
If you want to put aside lettuce and try a good spinach salad, this is a good start to savor this raw vegetable.
INGREDIENTS
Spinach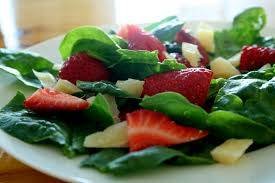 strawberries
Goat cheese
nuts
Olive oil
Raspberry vinegar
PREPARATION
Wash and cut the spinach short. Drain all water from Leave and slice the strawberries. Take the goat cheese and cut in small slices do crumble when you have prepared the salad and finally add the nuts.
Now it only remains to dress it with a splash of oil and raspberry vinegar , all ready to enjoy.
Main dish for your dinner for valentines day
For those of you who want to add meat in main course, I bring you this very easy recipe to prepare with an explosion of flavors that will captivate the palate of your partner as your own .
Better-than-Ever Cheesy Meat Lasagna – Credit to Kraft Recipes
This lasagna with cottage cheese, made with ground beef and spaghetti will fit into your healthful eating plan and will make your valentines day dinner more romantic.
INGREDIENTS
3/4 lb. extra-lean ground beef
3 cloves garlic, minced
1-1/2 tsp. dried oregano leaves
1 jar (24 oz.) CLASSICO FAMILY FAVORITES Traditional Pasta Sauce
1 large tomato, chopped
1 egg
1 container (16 oz.) BREAKSTONE'S or KNUDSEN 2% Milkfat Low Fat Cottage Cheese
1/4 cup KRAFT Grated Parmesan Cheese
9 lasagna noodles, cooked
1 pkg. (7 oz.) KRAFT 2% Milk Shredded Mozzarella Cheese, divided
PREPARATION
Heat oven to 375°F.
Brown meat with garlic and oregano in large saucepan. Stir in pasta sauce; simmer 5 min., stirring occasionally.
Remove from heat; stir in tomatoes. Mix egg, cottage cheese and Parmesan until blended.
Spread 1/2 cup meat sauce onto bottom of 13×9-inch baking dish sprayed with cooking spray. Top with layers of 3 noodles, half the cottage cheese mixture, 1/2 cup mozzarella and 1 cup sauce; repeat layers. Top with remaining noodles and sauce; cover.
Bake 30 min. or until heated through. Top with remaining mozzarella; bake, uncovered, 5 min. or until melted. Let stand 5 min. before serving.
Dessert Recipes for Valentines Day Dinner
Dessert is one of the main players when it comes to romantic and special days like Valentine's dinner , which is why we have chosen our best dessert recipe to show you how to end sweeten a wonderful evening .
Neapolitan Cupcakes
INGREDIENTS
2 1/4 cups cake flour
1 Tablespoon baking powder
1/4 teaspoon salt
4 egg whites
1 1/4 cups milk
1 1/2 cups granulated sugar
1 stick butter, at room temperature
2 teaspoons vanilla extract
1/4 cup cocoa powder
1/4 cup strawberry jam
FOR THE FROSTING
2 sticks butter, softened
6 cups powdered sugar
2 teaspoon vanilla extract
2 Tablespoon heavy cream
2 Tablespoon cocoa powder
1 Tablespoon strawberry jam
PREPARATION
To make the cupcakes, preheat the oven to 350 degrees and line two cupcake pans with cupcake liners.
In a medium bowl, whisk together the flour, baking powder, and salt.
In another medium bowl, whisk together the egg whites and milk.
In a large bowl, beat the butter and sugar together until light and crumbly. Beat in the vanilla extract.
Add both the flour and egg mixtures to the butter mixture, half at a time, beating until well-blended.
Split the batter into thirds. Set aside one third of the mixture. For the second, beat in the cocoa powder. For the third, beat in the jam.
Drop some of each of the three colored batters into the cupcake liners. Swirl with a knife to create a marbled effect, if desired.
Bake 18-20 minutes or until a toothpick inserted in the center comes out clean. Cool on a wire rack.
To make the frosting, beat the butter until pale. Beat in the vanilla extract, then gradually beat in the powdered sugar and heavy cream, half at a time. Split into thirds and set aside one third of the frosting. Add cocoa powder to the second, and strawberry jam to the third. Frost cupcakes as desired.
Notes:
– To make the jam easier to combine with the batter and frosting, warm it in the microwave in a small bowl for 10-15 seconds.
– Because the jam can make the pink cake batter a little more runny than the other two batters, you can always add a little extra flour to compensate for the extra liquid added. Along the same lines, you can add a little extra powdered sugar to the pink frosting as well.
Our Selection of Cocktail for Dinner for Valentine's Day:
If you want to end the night with a perfect nothing better than a soft cocktail drink
Kiss on the Lips
The Kiss on the Lips drink recipe is based on a drink served on Carnival Cruise Lines. It's pure, simple deliciousness, mixing the flavors of peach, mango and berry.
INGREDIENTS
1 1/2 ounces peach schnapps
5 ounces frozen mango mix
1 tablespoon grenadine
2 cups crushed ice
PREPARATION
Put the peach schnapps, frozen mango and crushed ice into a blender and blend in spurts until smooth. Pour the grenadine into the bottom of a cocktail glass and then pour the blended mixture in over the top of it. Garnish with a pineapple slice and cherry.
TIPS FOR A PERFECT VALENTINE'S DAY DINNER 2016:
The decor is basic : candles, music and flowers with some surprise for your partner .
Regarding the dinner which you will prepare just try to make sure that the food you choose your partner is not allergic to something, what dishes are the ones that your partner likes the most with what makes a good digestion or if there are any foods that sometimes problems for your Partner.
In terms of decor , just be careful with the scented candles , as these are the only cause that we can not fully appreciate the taste of food. Just place the simple candles above a table so that the food is the star .
It is best to prepare a simple table on which the food and your partner are certainly the main thing.
Another tip , beware of using food that can be replicated such as garlic to flavor are great but remove them before making the presentation of the dish and if you go for cocktails at the end of the dinner , be careful while drinking alcohol because more drunk can ruin a perfect night .
Velentine's day dinner Decoration – Floating Candle on a Vase Centerpiece