Looking for a DIY Coconut Conditioner for Glossy Hair? Do you maintain a strict hair care regimen but yet find that your hair is prone to damage? Is it likely that you've been neglecting to incorporate a crucial component in your hair care regimen—perhaps hair oil? When our hair doesn't get the necessary amount of natural oil to keep them healthy, it becomes dry and brittle.
You May also Like to Read: Tame the Mane: How to Get Rid of Frizzy Hair Permanently?
How to Get Super Glossy Shiny Hair with Just 1 Ingredient
When a person's hair appears dull, it usually indicates that moisture is deficient. This might be caused by the foods you eat, hair care products you use, or it could be any tools or chemicals you use during hair treatments. The condition of your scalp may also play a role in it.
Today I'm going to show you how to naturally make homemade conditioner oil using fresh coconut and coconut oil. This DIY Coconut Conditioner for Glossy Hair is incredibly useful for hair's health. If you're looking for a solution for your dry and dead hair then you've landed at the right page. When blended with fresh coconut, coconut oil—is a famous hair care ingredient that nurtures and rejuvenates your hair internally.
This homemade nourishing coconut oil hair oil for glossy hair is really simple to make and will give your hair the most beautiful appearance. We're going to continue by taking the nutritional value out of fresh coconuts. Coconuts are packed with minerals, essential fatty acids and vitamins. These important ingredients encourage development of hair and repair your strands.
DIY Coconut Conditioner for Glossy Hair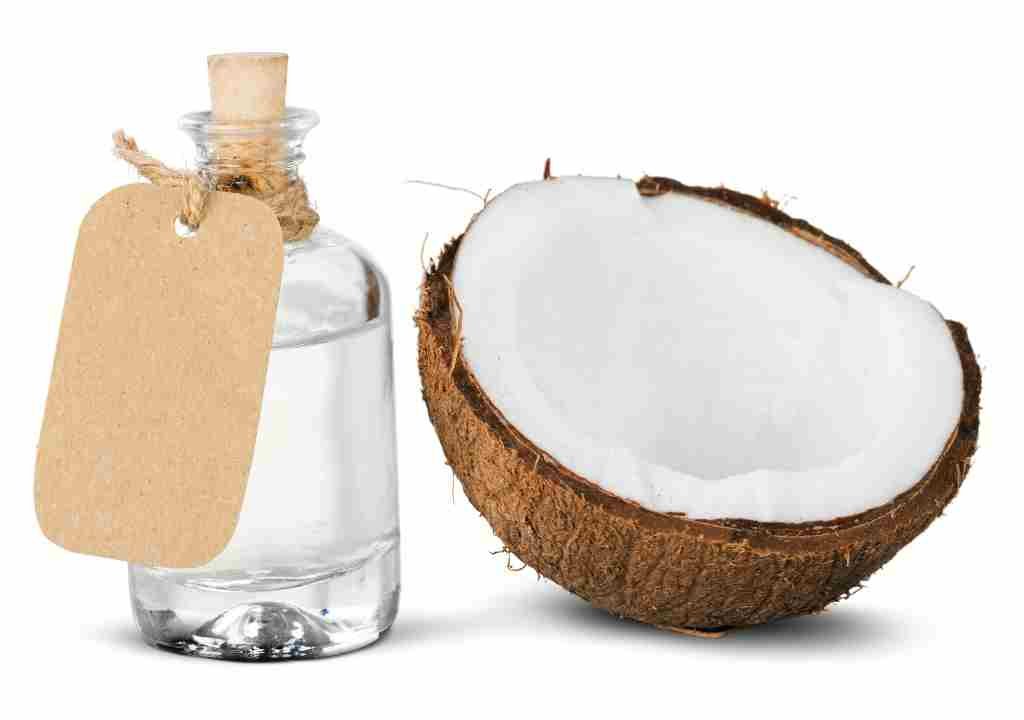 Join me in preparing this DIY conditioner with coconut water and pure coconut oil if you're ready to transform your hair. Prepare to bid farewell to your lifeless and dead hair and welcome your lush, glossy hair! Start now to unleash nature's power for incredibly shining locks! All hair types, including curly, straight, short, and long hair, as well as dry, brittle, and damaged hair, can benefit from this amazing treatment.
You just need one whole coconut with coconut water in it. Peel the brown part of the coconut and pour its water in a grinder. Add some coconut pieces in it and blend well.
Strain the mixture through muslin cloth and put in a separate bowl. You'll get a nutritious coconut cream which is full of benefits for your hair. Add 1 table spoon of coconut oil to the mixture and mix well. Then add this to the spray bottles. You can also store this mixture in containers and then refrigerate for future use.
How to Apply DIY Coconut Conditioner for Glossy Hair
Spray this mixture to your hair from roots to tips before washing your hair. Make sure your hair is tangle free before applying it. Then tie up your hair in a bun. Your hair will feel a bit hard after its application but this creamy coconut milk provides glossy coating to the hair. Keep this on your hair for 1.5-2 hours and then shampoo your hair. This mixture can be used as an alternative to the conditioners. It even works better than conditioner.
It has zero side effects and is suitable for all hair types. It's best for thin year as it will provide volume as well as nourishment to the hair.
Do not forget the part that you got as filter when you strained the mixture. This is shredded coconut that you buy from the markets to add in your foods or desserts. And you know what the most amazing part is? It is completely fat free!
Benefits of DIY Coconut Conditioner for Glossy Hair
The aromatic fresh coconut will enhance the moisture in your hair and give a soothing odor. The newly extracted coconut when combined with virgin coconut oil will add instant gloss to the hair. Coconut oil is known for its property to penetrate the hair shaft and to deliver deep nourishment as well as a glossy appearance. It is also quite hydrating. Additionally, it lessens the breakdown of proteins, which results in stronger, hair that is healthier.
When our magical mixture is prepared, apply it to the hair and allow it do its magic. Your hair will receive deep conditioning from the blend of pure coconut and coconut oil leaving your hair smooth, soft, and highly lustrous. For individuals looking for an organic option to expensive hair treatments and skincare products, which are frequently filled with toxic ingredients, this DIY conditioning oil is ideal.
This weather results in extremely dry hair leading to the release of natural essential oils from the hair which results in dull and lifeless hair. We should use organic and natural ingredients to our hair as they are loaded with benefits. Chemical treatments have short term benefits for the hair while natural ingredients have long term benefits. You'll see the results just after one application of natural hair treatment in the form of shiny and lustrous hair.
Coconut oil is present in a variety of beauty products. It is proven through research that coconut oil is beneficial for dry skin but in addition to that, it also has some possible softening advantages for your hair. As coconut oil can absorb deeply into the skin, it also penetrates deep into the hair and nourishes it.
You may either search for products that have coconut oil already in them or you can massage pure oil into your hair after shampooing for best results.
Also read: What are the benefits of using facial roller in skincare routine?
Takeaway notes:
Dull hair can be caused by many things. Over styling, environmental conditions, and product accumulation can all cause hair to appear dry and lifeless. Thankfully, there are methods of boosting your hair's natural sheen and shine.
Simple homemade remedies, products that increase shine and feeding your hair from the inside all can be helpful. Additionally, it can be advantageous to avoid chemical treatments and using excessive heat.
You may get lustrous hair without going to the salon thanks to a number of natural therapies that you can use at home. Following these tips for lustrous hair, such as combing hair frequently, massaging the scalp, eating foods high in omega-3 fatty acids, and include hair nutritional supplements in your diet, will enhance the condition of your hair by adding hydration and luster.
Once or twice a week, making hair masks with substances like coconut oil, mayonnaise or yogurt can work wonderfully for your hair's moisture and shine. For bouncy, lustrous hair, you must also visit a hair spa once a month and sleep with your hair covered. Consider a scheduled appointment with a cosmetologist if you see no change in the luster or the condition of your hair.