Are you ready to embrace the latest Fall 2023 makeup trends? This season brings an exciting array of looks, with a focus on colorful mascara and lipstick reminiscent of the vibrant styles of the 90s.
Get ready to experiment with bold hues and expressive beauty looks that will make a statement. This article will showcase the top 11 makeup trends straight from the runway, ensuring you stay ahead of the game. So, let's dive in and discover the best fall 2023 makeup trends!
You may also like to read: 10 Basic Beauty Tips For your Daily Skincare Routine in winter
11 Best Fall 2023 Makeup Trends from the Runway
Discover the best fall 2023 makeup trends that include graphic eyeliners, colorful mascaras, and 90s lips. Embrace the bold and vibrant looks of the season for a standout appearance!

1. Smoky Eyes with a Twist
The classic smoky eye gets a modern twist this fall. Instead of the conventional black and gray shades, experiment with jewel tones like emerald green or sapphire blue. These rich hues will add a touch of drama to your eyes and make them stand out. Pair it with a nude lip to let your eyes do all the talking.
2. Berry-toned Blush Shades
Gone are the days of subtle blush. Fall 2023 brings a shift towards deeper, berry-toned blush shades. Apply them on the apples of your cheeks to create a flushed and youthful appearance.
Swipe a vibrant shade of blush across your cheeks, extending it towards your temples. This will create a youthful and flushed look, perfect for the colder months. Opt for warm peach or rosy pink tones for a fresh and natural appearance.
3. Glossy Lips
The 90s are back, and with it comes the resurgence of bold, dark lips. Deep burgundy, brown, and plum shades are a must-have this fall. Pair them with a crisp lip liner for a precise and defined pout.
Matte lips are taking a backseat this fall as glossy lips make a triumphant return. Choose lip glosses with high-shine and moisturizing formulas to achieve a luscious pout. Experiment with bold shades like deep wine or rich berry for a statement-making look. Remember to keep the rest of your makeup minimal to let your lips shine.
4. Graphic Eyeliner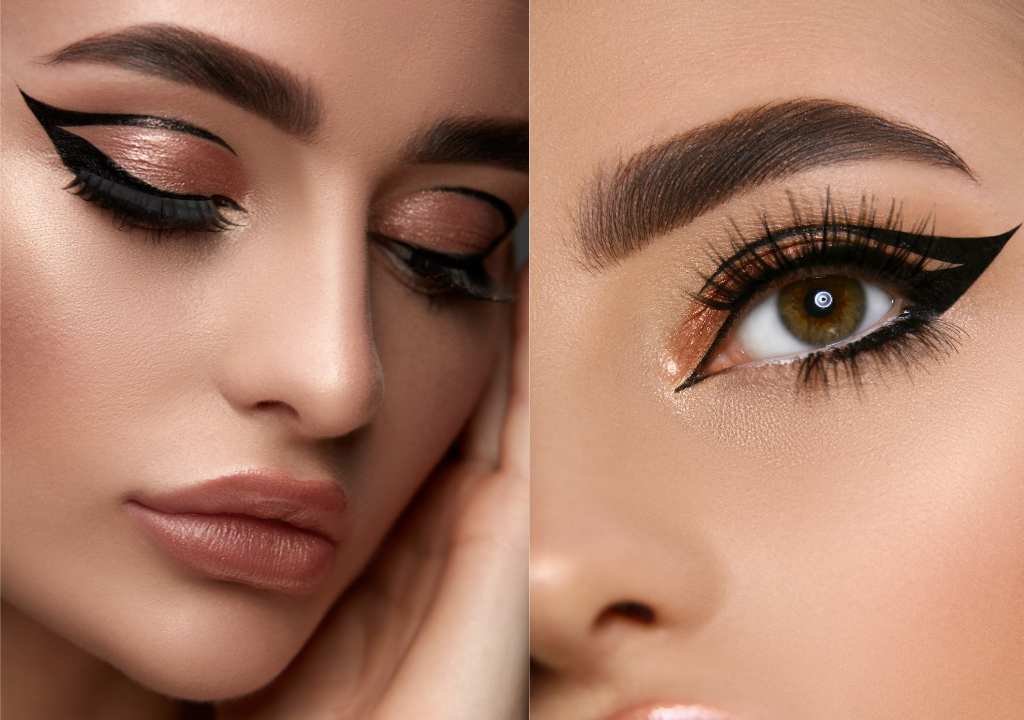 If you're feeling bold and adventurous, the graphic eyeliner trend is for you. Create geometric shapes or bold wings using liquid or gel eyeliners. This trend allows you to showcase your creativity and experiment with different patterns and styles. Take inspiration from the runway and make a statement with your eyes.
5. Dewy Skin
Healthy and glowing skin never goes out of style. This fall, embrace the natural and radiant look with dewy skin. Achieve a luminous complexion by using hydrating primers, sheer foundations, and highlighters. Remember to use products with light-reflecting properties for that ethereal glow. Say goodbye to matte finishes and hello to a radiant complexion.
6. Statement Brows
Make a statement with your brows this fall. Whether you have naturally thick brows or need a little help from products, bold brows are in. Fill in sparse areas using a brow pencil or powder and comb them upward for a bushy effect. Embrace your natural brow shape and give them some extra definition. Bold brows frame the face and create a strong and confident look.
7. Metallic Accents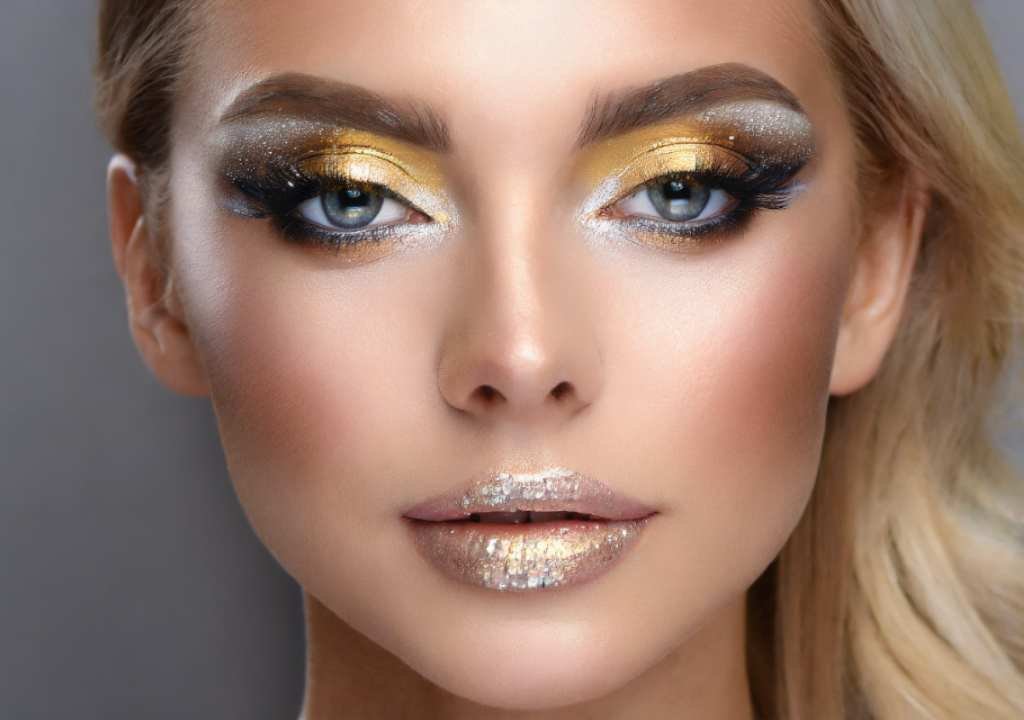 Add a touch of glamour to your makeup looks with metallic accents. Experiment with shimmery eyeshadows in gold, silver, or bronze shades. Apply them to the inner corners of your eyes or as a pop of color on your eyelids. You can also try metallic lipsticks or highlighters to elevate your overall look. Let your inner sparkle shine this fall.
8. Monochromatic Makeup
Keep things cohesive and chic by embracing monochromatic makeup. Choose a color and create a harmonious look by using varying shades of that color on your eyes, lips, and cheeks. For example, if you opt for a soft pink, use light pink eyeshadow, blush, and lipstick for a romantic and put-together appearance. Monochromatic makeup is effortlessly elegant.
9. Negative Space Nail Art
Don't forget about your nails when it comes to fall makeup trends. Negative space nail art is the perfect way to showcase your creativity. Leave parts of your nails bare and create intricate designs using nail polish or nail art stickers. Experiment with geometric shapes, lines, or even graphic patterns. The possibilities are endless, and your nails will be the ultimate accessory.
10. Understated Elegance
Sometimes, less is more, and that's where the understated elegance trend comes in. Embrace a more natural and minimalistic approach to your makeup. Opt for sheer foundations or tinted moisturizers, light blush, and a nude lip color. This trend celebrates your natural beauty and enhances your features without overpowering them. It's all about effortless beauty this fall.
11.Colorful Mascara
Stepping away from traditional black and brown, colorful mascara is making a strong comeback this fall. Experiment with shades like electric blue, vibrant purple, and emerald green to add a pop of color to your lashes and make your eyes stand out.
Embrace the Bold and Beautiful
The Fall 2023 makeup trends take inspiration from the past while embracing a bold and colorful future. From graphic eyeliners and colorful mascaras to 90s lips and dewy skin, there is something for everyone to experiment with this season. Remember to have fun with your makeup and let your creativity shine through. Now, go ahead and try out these trends to make a statement wherever you go!
So there you have it, the top 11 makeup trends for Fall 2023. From bold smoky eyes to dewy skin, there's a trend for every makeup lover to try. Experiment, have fun, and let your creativity shine through. Fall 2023 is all about embracing your individuality and finding what makes you feel confident and beautiful. Happy experimenting!
Note: The above fall 2023 makeup trends are based on runway shows and industry predictions. Individual preferences and styles may vary.
Learn about how to nail no makeup makeup look in just 5 minutes!