Cute Blue makeup looks are one of the most trendiest makeup looks this season. Blue is a super flattering color that can be used to make cute easy makeup looks even by beginners as well.
So let's get started with some of the cute easy blue makeup looks that can be achieved easily at home.
Cute Easy Makeup Looks in Blue
Blue addicts may be more than happy this year, because the good news is that the color blue is FOR EVERYONE <3. Everything is a matter of giving it the opportunity, and putting a lot of attitude to the look ? because the trend is already on your side.
Although, some people consider blue makeup looks easy to do but for some t s very difficult. However, blue makeup is very generous and offers us a super varied palette of shades. Colors ranging from blue, turquoise, navy blue, and much more. Some of these tones are more flattering in certain seasons of the year, such as electric blue and Klein blue are ideal for winter, while marine tones are summer bff ?
There is always a makeup in blue tones for each and every occasion <3 Do you want to discover yours? Here are 20 cute easy makeup looks ideas to take this year.
Cute Blue makeup looks
Delicate and cute blue makeup loos are great alternative to give personality to your day, even more so now that we wear the mask all day . Dare to color your look and dazzle with a makeup that's super easy to do.
You can use any of the blue tones from Morphe 18A Blue Ya Away Artistry Palette. It will be enough to color the eyelid. Do not forget to define your beautiful eyebrows well to get a top look.
Natural blue makeup
If you think that blue makeup is too much then put it in the friendzone without giving-up on it!! because we present you a super cute easy makeup looks with which you will want to marry for the rest of the season.
Blue can also look very natural, it all depends on the shade you choose. The shades that are inclined to violet tones, since they are ideal for a very beautiful natural look, even more so when they are complemented with peach colors that are also super trendy this year. Bet on the blue in the tear duct to create that magic light in your eyes. You can try Liquid Eyeshadow by Stila Double Dip Seude Shade & Glitters
Sky blue / baby blue makeup Looks
As we have been telling you, the blue makeup palette is super versatile and that is why we love it! We will always be able to find the right color for our skin tone, so there are no excuses not to try it;). Sky blue, baby blue makeup looks or pastel shades in general are the bff of oily skin ? it highlights them beautifully!
The fade into hue by Color pop has the perfect baby blue color for this look. You only have to make up your eyelids with this beautiful shade, and give depth to your eyes with a simple outline, and faux lashes to give more volume to the eyelashes <3. A super simple makeup, but that promises to steal all eyes ?
Navy blue makeup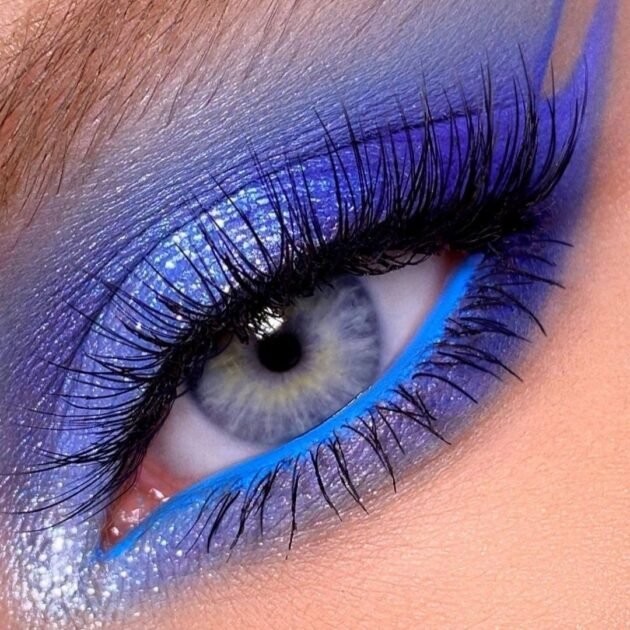 Good news for the green-eyed readers, as the dark blue makeup is the most flattering for you <3. This color, in addition to grayish blue and Klein blue, are your besties when it comes to makeup your pretty eyes, so take advantage of them!
The Masquerade Eyeshadow Palettehas a very cute navy blue color that will help you achieve a very chic makeup in simple steps. Make sure to apply the blue color on the mobile eyelid, and to give depth to the look you can use a very soft peach or earth tone, which you will also find in the same shadow palette <3
Simple blue makeup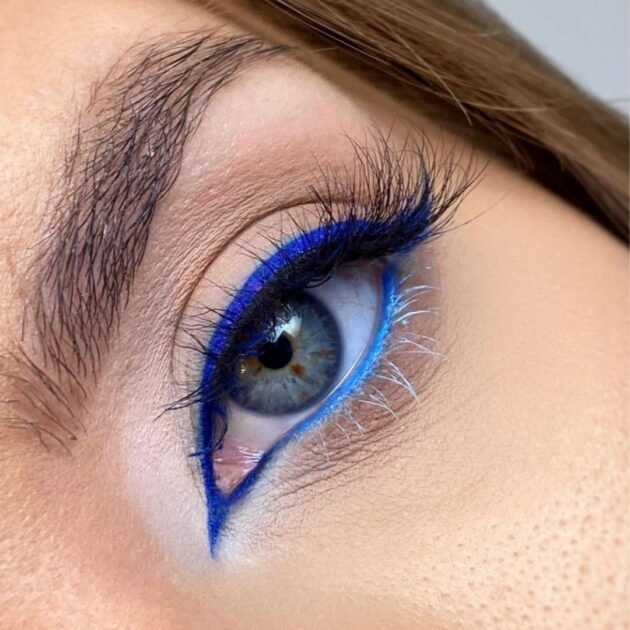 If you were from the team, no way! In front of a blue makeup for day to day, well we will only tell you to think again. Remember that in terms of makeup, all colors are possible as long as they are subtle when applying makeup.
A simple blue makeup is ideal to fill our day-to-day with energy. You will only need to outline your eyes with this color and voila! The mascara will be a plus in your final cute easy makeup look ? but the outline will have already done all the magic.
Litmus blue makeup
The brightness and color of this makeup trend is ideal to make very cute easy makeup looks that are beautiful and impressive makeup, worthy of instagram. The good thing is that you can try with more than one shade of blue, and play with other colors such as purple and its varieties such as lavender for example, the combination is top!
The secret of this makeup is in the transition of shadows. The most important thing so that the intense blue makeup goes to a lighter one, and even to another color such as purple or lilac, is to blend the shadows well. To do it correctly, you must pass your brush with light circular movements between the blue color and the other tone with which you want to make the transition. When you notice that the division of the colors has been lost, you will be ready… it will look top!
Blue evening makeup
Glam and intense are the best allies of the night, don't you think readers? And you can apply that same with a nice blue makeup. Even if we are not dating at all, it is always important to remember how cool it was to do it hehe, so why not start practicing this makeup ?
The dark blue shades of Multichrome Palette are the best option for an evening look and even more so if you have blue eyes, as they help to achieve a better contrast. Combine them with grays and blacks to give the look depth and it will be a win. So do you like this cute blue eyeshadow looks?
Makeup with blue outline
The golden rule to wear this makeup like a real OG, is not to use it with blue eye makeup. In general, theblue eyeliner is such a cool trend that it can be worn alone and it will still steal the prominence of the look. The other option is to wear it with matte or shiny nude shadows on the eyelids, and voila! You will not need more.
But how do you get that perfect line to show off your beautiful blue eyeliner? Well, the trick is to start from the center of the eye, and extend outwards. Down-style eyeliners like Studio Look are ideal for this type of look, as your tip helps to achieve maximum precision.
Cute easy Blue makeup look for brunettes
Are you brown skin? Well, congratulations !! Because we have the ideal blue makeup for your beautiful skin color. Bright blue tones are your best allies when it comes to makeup, and will help you look amazing <3
Electric blue shades are a must for you, give it a try! Shades like bluish are also your thing girls ? bet on a bright & bold blue makeup and you will succeed as trend setters <3 If you want to give it an extra touch of luminosity, the Secret Galaxy Eyeshadoware your best option.
Blue cut crease makeup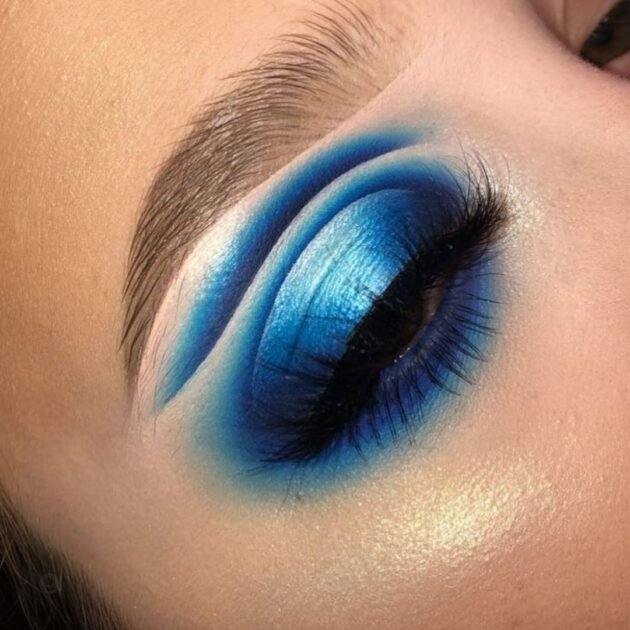 This look is for our boldest makeup lovers willing to fuse two super risky and cool trends: the blue cut crease. This makeup can be tried both in eyeliner and also a cut crease with blue shadows.
You can use blue eyeliner or shadow to show off a cut crease look! Remember that the objective of this makeup is to achieve a cutting effect between the mobile and the fixed eyelid, that is why the outline, or the marking with the blue shadow, must be done at the height of the crease and try to mark it well to achieve the effect WOW what are we looking for with this makeup ? do you dare?
Also read 5 Amazing Makeup Tips To Sparkle Up Your Dull Eyes
Blue cat eye makeup
Thecat eye look cannot be left readers. It is a must makeup and it deserves it! It is super flattering for all types of eyes, and works on all looks, from the simplest to the most chic. To make it more trendy, say bye to the classic black eyeliner, and move on to the vibrant blue, you will not regret it!
The trick to a perfect blue cat eye is to start from the inside out. Remember that the thicker the stroke, the more dramatic the result;). Do not forget to make up your eyelashes for a striking effect on the look ?
Smokey eyes blue
The must have in terms of blue makeup aresmokey eyes. This makeup technique looks great with all shades of blue. From marine tones to the clearest sky blue, through the brightest and most electric tones.
It is also possible to bet on this makeup in a matte version. But beware! Be very careful when choosing the right shade and matching it to your overall makeup. To make it look very chic, it is best to opt for nude lips ?
Blue glitter makeup
The brightness can not be missing when we talk about blue makeup. From its most subtle to the most dramatic versions, the glitter in the look always adds an extra glam to the final look ?
Shimmer, glitter, and even metallic blue shadows are the top options for this brilliant makeup. The ideal is to focus on making up an area of ​​the eye with the glitter product, we recommend the fixed eyelid to create a powerful point of light ?
Blue foxy eyes makeup
Bella and Kendall would be very proud of you, and it is that this cool trend was imposed by them a couple of years ago. 2021 gives you the chance to revive it in a more daring way, and that is with a blue eyeliner ?
This foxy eyes makeup is super flattering, and the fox look is a look that gives a special touch to the eyes thanks to its lifting effect. What it will do is lift the eye and lengthen it to create a more almond shape. Get a look with alot of attitude with the classic black outline.
Make-up with classic blue shadows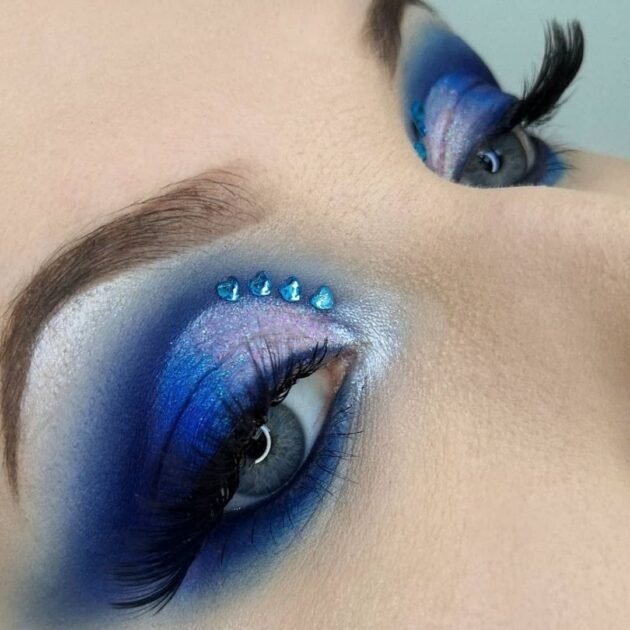 We are not rookies with this color, and if you remember well, classic blue was #ColorOfTheYear in 2020, managing to be the protagonist of the most iconic makeups of the moment. This flattering color that evokes serenity and balance can also be very imposing when used in high-contrast makeup.
The feline look never goes out of style, so we have this twist in which blue shadows take over the look. Go for a dramatic classic blue cat eye and nude eyelids to create a more striking contrast. Do not be afraid to exaggerate in this makeup, the idea is that it is super striking ?
Also Read: Makeup Tips! Make-Up Is Not So Hard, You Know
Blue halo eyes makeup
We love this makeup technique !! It gives a lot of shine to the look creating a magical aura <3 and if we thought it was unbeatable, the blue trend shows us the opposite hehe, everything is always more chic with a little blue makeup !!
The light is concentrated in the center of the eye, by means of a halo of lighter color. It is contrasted with a darker tone on each side, which gives the illusion of bigger and brighter eyes we love! To maximize the sparkle in your eyes, go for metallic shadows or a glitter in the center. Tones like navy blue applied to the inner and outer corners will better contrast this makeup making it look incredible!
Blue aesthetic makeup
Nothing better than betting on a unique makeup that goes with the personality of everyone, something that screams "this is me" and blue is such an imposing color that it lends itself a lot to achieve this unique and cool makeup.
You can bet on a makeup with blue shadows and add sparkling stones on the crease of the eyelid to give the aesthetic touch to the look. This alternative is ideal to get a perfect fantasy makeup to instagram, but there are also other options that you can experiment with such as graphic outlines, cut crease, and more ? it all depends on your creativity!
Dewy blue makeup Look
If you want to dare for more and bet on a blue runway makeup, then we have the winning look. The glossy look is a very chic trend, and even more so when the protagonist is a color as vibrant as blue.
The blue makeup with this dewy effect is perfect to achieve a super luminous and artistic makeup. Although there are glossy shadows that you can use to make this makeup, the truth is that you can also create the effect with products that you have at home. You just have to mix a little of your moisturizer with the blue shadows of your choice (we recommend the most electric and luminous shades).
High contrast blue outline
The outlined graphics are setting the trend in 2021 in cute easy makeup looks, do you already know them? It is a style that draws lines of different shapes and styles with different finishes around the eyes, they look very cool!
The blue version of this outline looks top in the look, and even more so if it is contrasted with other vibrant colors such as neon or orange for example. Don't be afraid to experiment with double color liner, a DOT liner, or perhaps a more abstract liner, anything goes! (as long as blue is included)
Blue eyelashes
Life is too short to pigeonhole ourselves into the classic black mascara, don't you think? Take advantage of the fact that the full color trend is on your side, and let the blue take over your beautiful lashes, you will love the result!
We hope you like our recommendations of cute easy makeup looks in blue. Do you already know what your favorite blue makeup is? The options are endless <3, so there is no excuse not to try this incredible shade with the look that is most akin to you ?