Mother's Day is just around the corner, and you might be feeling overwhelmed with gift ideas for your mom. You want to give her something unique, and memorable that shows your appreciation for her. It's time to step away from the usual gifts and surprise her with something different this year. Here are some Unique Gifts for Mum that your mom will love and cherish.
17 Unique Gifts for Mum that your Mum will love
1- Pop-Up Flower Bouquet
A traditional card is a great way to send a message, but a pop-up flower bouquet takes it to the next level. This tropical-themed flower bouquet is not only beautiful but also unique, and it won't wither away like a regular bouquet. It's easy to set up, and all you need to do is add a few stamps and write the "From" and "To" information. When your mom opens it, she'll be greeted with a stunning array of flowers that will brighten up her day.
2- Bonsai Tree
If you're looking for a gift that is real and long-lasting, consider a bonsai tree. This five-year-old tree comes from the world's largest bonsai nursery and is under $30. You can choose from different tree options and sizes, so you're sure to find one that suits your mom's taste. The bonsai tree is a beautiful and unique gift that your mom will appreciate and can cherish for years to come.
3- What I Love about Mom Book
For only $10, you can give your mom a book that is all about her. This "What I Love About Mom" book has 50 fill-in-the-blank pages where you can tell your mom why you love her and why she is special. You can also write funny answers to make her laugh. This customizable book is a great way to show your mom how much you appreciate her and all that she does for you.
4- A Mother's Guided Journal and Memory Keepsake Book
This Mother's guided journal and memory keepsake book is a beautiful gift that your mom can fill out for you. It is a great way for her to recall her life experiences and lessons learned, and it's something that you will treasure and keep forever. This gift is not only a great way for your mom to share her life story with you, but it's also a way for you to connect and bond with her.
5- Warmies Microwavable Slippers
These Warmies Microwavable Slippers are perfect for keeping your mom's feet warm and cozy. They are great for lounging on the couch or in bed, and all you need to do is put them in the microwave for a minute to enjoy the softness. These slippers are a great way to show your mom that you care about her comfort and well-being.
6- THE COMFY
THE COMFY is an oversized blanket that you can wear and cuddle up with. It is perfect for keeping warm and cozy, and it comes in different colors. This blanket has full five-star reviews, and it's a top-notch option for anyone who loves comfort. Your mom will appreciate this gift, especially during the colder months.
7- Popcorn Cardigan
This popcorn cardigan is a cozy, soft, and buttery option that will work for anyone. It comes in multiple colors and is great for people of all ages. Your mom will appreciate this comfortable and stylish option, and it's perfect for those days when she just wants to relax at home.
8- Beige Shirt Jacket
This beige shirt jacket is a versatile year-round option that your mom will love. It can be dressed up or down, and you can choose from different options to find the perfect one for your mom. This gift is a great way to show your mom that you value her style and want to help her look and feel her best.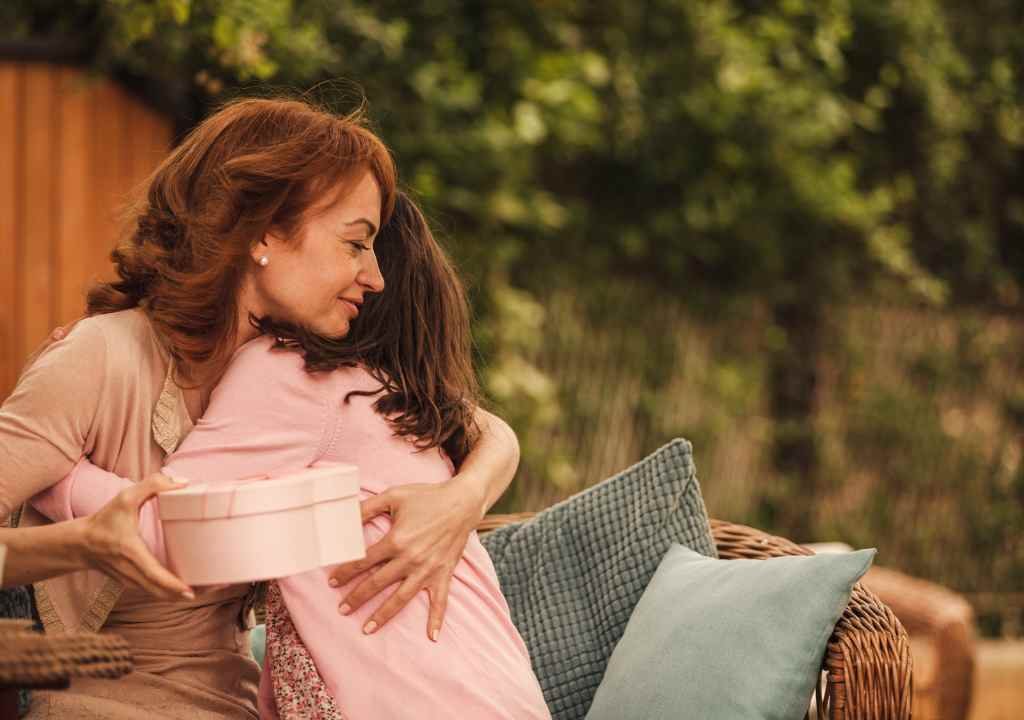 9- The Perfect Pant
The Perfect Pant is a comfortable and versatile pair of pants that are perfect for any occasion. Made from flowy material, these pants can be dressed up or down, making them ideal for running errands or attending formal events. They are available on Amazon and are known for being the "perfect pair of pants." They are so comfortable and reasonably priced that they make an excellent gift for anyone, including your mom.
10- Glass Diamond Foot File
The Glass Diamond Foot File is one of excellent and Unique Gifts for Mum who suffers from dry, cracked feet. This foot file is unlike any other product on the market, and its unique texture removes dead skin cells effortlessly. People who have tried other products and failed will appreciate the Glass Diamond Foot File's effectiveness. It is a product that is both effective and affordable, making it an ideal gift for anyone.
11- Bath Pillow
The Bath Pillow is a perfect gift for anyone who enjoys taking baths. The pillow attaches directly to the bathtub and provides a comfortable and relaxing experience. It is adjustable, making it perfect for any size bathtub. You can use it to watch a movie or read a book while you relax in the bathtub.
12- Bamboo Bath Tray
The Bamboo Bath Tray is an excellent gift for anyone who loves taking a bath. The tray is adjustable, making it perfect for any size bathtub. You can use it to hold drinks, an iPad, or even candles. It is both functional and stylish, making it a perfect addition to any bathroom.
13- Shower Steamers
Shower Steamers are perfect for people who don't like taking baths or don't have a bathtub. They are similar to bath bombs but are designed for use in the shower. The steamers come in different scents and are perfect for morning or evening showers. They are an affordable and effective way to enjoy the benefits of aromatherapy.
14- Eye Massager
The Eye Massager is a viral product that is perfect for anyone who needs to relax and unwind after a long day. It can be one of the Unique Gifts for Mum. The massager uses pressure and air pressure to massage the eyes, providing a warm and relaxing experience. It is perfect for people who suffer from migraines or headaches and is a unique and interesting gift idea.
15- Iwalk Charger
The Iwalk Charger is a portable phone charger that is perfect for anyone who is always on the go. The charger is lightweight and plugs directly into your phone, making it easy to use. It is available in many colors and is an affordable and practical gift idea.
16- Kate Spade Bangle Bracelet
Kate Spade is a well-known designer brand that offers high-end products, and they have their own store on Amazon. While their items may seem expensive, this bangle bracelet is reasonably priced and perfect for anyone who loves the designer style. The bracelet is available in yellow gold, rose gold, and silver, and it is engraved with "HEART OF GOLD" on the inside. This makes it a unique and special gift that will be cherished for years to come.
One of the great things about this bracelet is that it combines both style and sentimentality. It's a fashionable piece of jewelry that can be worn every day, but it also has a hidden message that only the wearer knows about. It's a great way to show someone that you care about them and that they have a heart of gold.
17- Personalized Cutting Board
The last gift idea is a personalized cutting board, also available on Amazon. This cutting board can be engraved with the actual handwriting of a family recipe, a child's drawing, or any other meaningful message. This takes the traditional cutting board to the next level, turning it into a sentimental and unique piece that will be treasured for years.
The beauty of this gift is that it is so personalized. It allows you to take a special message, recipe, or drawing and turn it into a useful kitchen item that will be used regularly. It's a great way to honor a family tradition or to celebrate a special memory. And with Amazon's easy ordering process, it's a convenient and stress-free way to give a thoughtful and meaningful gift.
Finding the perfect gift for your mother can be overwhelming, especially with so many options available. However, you can surprise her with these Unique Gifts for Mum that are unique and memorable by stepping away from the usual gifts. From pop-up flower bouquets to customizable books and memory keepsake journals, there are plenty of options available to show your appreciation for your mom.
You can consider any of the above mentioned product for your MOm to give her a gift that shows you care about her comfort and well-being. The right gift will help her feel cherished and loved, and make her Mother's Day unforgettable.
Also Read: Happy Mother's Day Quotes