Looking for some Ramadan decorations ideas? People around the world are looking forward to the month of Ramadan, a holy month for all Muslims. We regularly come up with creative ways to decorate our homes and streets in honor of the holy month when Ramadan is approaching.
Throughout the month, lights, lanterns, and various types of decorations are used to decorate the streets, work places, and homes. Throughout Ramadan, decorations are used to create a festive and vibrant ambiance. It looks fantastic on walls, ceilings, doors, windows, and even floors. Consider using some of the Ramadan Kareem decoration suggestions this year.
Many Ramadan decorations ideas have been compiled and displayed below. While some are more cultural in nature, some emphasize the religious aspects of the festival. Whatever your preference, we're sure you'll find something you'll love. So go ahead and choose your favorite from these Ramadan decoration suggestions to spread the festive atmosphere to all visitors.
Related: 5 Most Stunning Abaya Trends to Follow this Ramadan 2019
Ramadan Decorations ideas for 2023
When putting your house in order for Ramadan Kareem, you can have fun and get creative. Simply come up with suggestions about how to make your house into a festive environment. You must take special care of the area if you want your Ramadan Kareem decorations to appear nice. Here are some ideas for decorating during Ramadan Kareem.
1- Traditional luminous lanterns
During the holy month of Ramadan, Muslims all around the world lit candles and decorate their homes. Traditional lanterns are used to illuminate streets, malls, hotels, offices, and homes throughout the month of Ramadan. The lanterns foster a festive environment and have become a universal icon of the holy month. Decorative lights including wall lights, ceiling lights, ornamental LED lights, floor lamps, and outdoor lights can also be used as décor during Ramadan.
2- Scented candles
Candles can uplift someone's mood in addition to offering a wonderful source of light. During Ramadan, scented candles, whether with the rich fragrance of fresh lavender or the sweet floral fragrances of roses and peonies, are a great way to make the space feel more hospitable and spiritual. In order to improve one's mood, one can light a few of these in their home or place of business.
3- Put on Ramadan Banner
Pick an existing table or rack in your house, such as the console table by the front entrance or the tiny rack above the fireplace, and decorate it up for Ramadan. There are ready made Ramadan banners available in the market. But you can also make banner by yourself. You just need a plain white cloth and bunch or colors. Write Ramadan Kareem on cloth and color it with your favorite colors. You can hang this banner on the doors or walls.
4- Foil Balloons
The most easiest and convenient way to decorate your home in Ramadan is to use foil balloons which are available in all letters. Take balloons of letter RAMADAN and place it on any wall you want. You can pair it with star and moon shaped balloons.
5- Decorate Aftar table
The holy month of Ramadan, during which Muslims must fast from sunrise to sunset, ends on Eid al-Fitr. Friends and family get together to exchange gifts and eat traditional dishes on the Aftar parties. But, there is more than simply food available at the Aftar and Eid tables. You might choose suitable tablecloths, shiny cutlery, and scented candles with fresh fragrances. For added appeal, separate silver containers should be used to store dates, dried fruits, and nuts.
6- Eid countdown
The excitement for Eid is one of the joys of Ramadan. With the help of an Eid countdown chart, you can keep track of the remaining days till Eid! Use this tool to count the days as they pass and get the family excited for Eid.
7- DIY chandelier
This is an interesting activity that you can do with your kinds. Cut out stars, moon and circles out of different colored card papers. Also use some glittery paper to write Ramadan. Glue all these to a string and hang it up on the door or make it a chandelier.
8- Lit up your curtains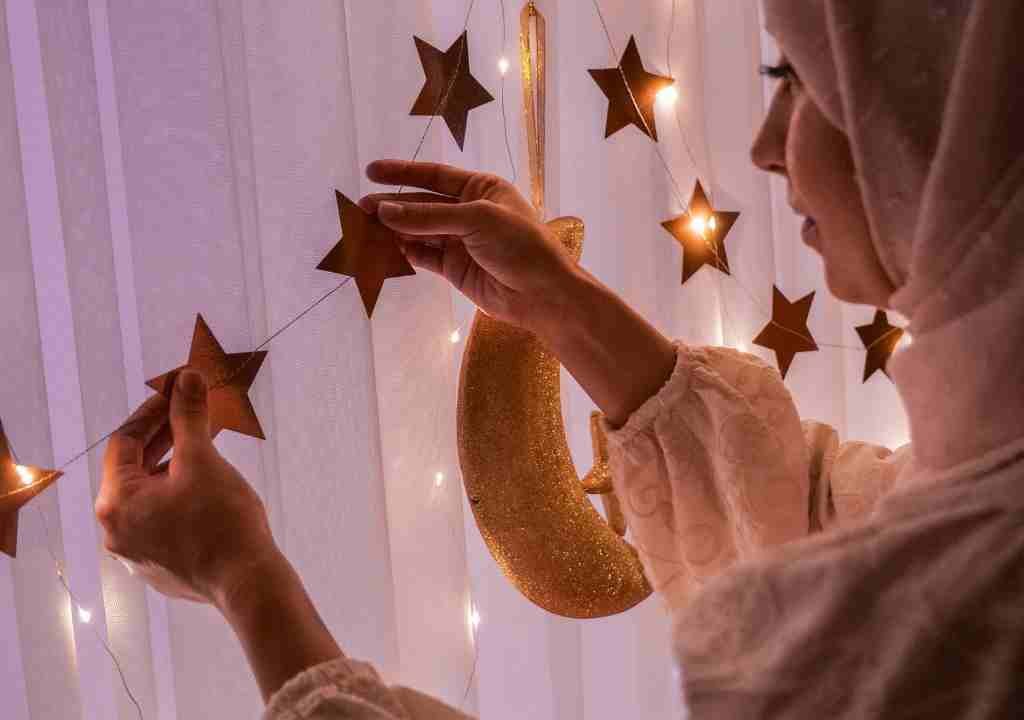 Use attractive fairy lights or star string lights that are available on Amazon. Decorate your curtains with these lights to lit up your house to create a lively ambiance in Ramadan.
9- Ramadan Wall decoration
Every Muslim hopes to be rewarded with the most throughout the month of Ramadan. There are special prayers said in three Ashras of Ramadan. For hanging decorations for Ramadan, try writing these specific prayers on chart paper and add glitter and flowers to them. Then paste these on the walls. In this way, the prayers will become a part of your daily routine and you'll recite them more frequently.
10- Quran corner
The recitation of the Quran is the soul of this holy month. So, constructing a space in your home specifically for the reading of the Quran is a sensible idea. The Quran corner can be draped with flowers and fairy lights. It is important to have a table, one or two Qurans, some book marks, chairs and some little decoration stuff in that area. The best part about making this corner is that it is easy to make with the things already present in your house.
11- Prayer corner
Every day, Muslims offer five prayers. But they enjoy praying nawafil and doing Taraweeh since Ramadan is a blessed month. The home's male members go to the mosque to pray there. You can, however, designate a special prayer place for other members of the household, such as women and children. At the Namaz corner, kids will be motivated to pray and will love it. Flowers, Ramadan moon decorations, wonderful rugs from your own house, and prayer mats can all be used to decorate the area where you pray.
12- Ramadan welcome mats
You can decorate a standard mat with eye-catching patterns and attach it to your door. You can either purchase it online or make your own using supplies you already have at home. Ramadan welcome mats are a great idea, especially if guests are visiting your home during the fasting month.