The idea of Makeup Tips glancing into the mirror and finding a star staring back at you is a moment every girl cherishes but the effort needed to bring about the outcome can lead some to say: forget it. So, if you belong to this category, we come to your aid, with some Beauty Tips and Tricks to do it right and ideas that you perhaps didn't know and what was making you less smart than those others who appear picture perfect. Let's go?
Let's Start With Makeup Tips Your Face
Now, while a lot of us know the knack of starting it right, there are still some who just take the shortcut of throwing on some cream and foundation on a tired and oily face with a dash of some shadow and rouge here and there.
A big mistake! Always remember, before you start on your makeup, wash, exfoliate, moisturize. You will know the difference when you see it!
For the Makeup, tips Make the eyes the first part of your make-up if you are careless. This will keep you from having to redo all that foundation when a drop of mascara fell over your nose.
Let's Move To Your Eyes
If you have dark circles to hide, well, you would already know it, but if you don't, the answer is the concealer. Use it to make small dots under your eyes and then apply it to form a triangle. Then you are good to go.
Remember that if you want your shadow to stand out, one tips is the white eyeliner. And if you want the perfect Smokey eye, here are the tips, make a hashtag on the corner before spreading the color all over. This prevents a goof up and saves you time too.
Perhaps, when it comes to the eyes, the biggest problem that you can have is, yes, you guessed it right, the liner. This is the stage that most women cross their fingers and take a deep breath before starting. One of the best solutions to this is the tape trick, especially if like stretching your eyes.
Rub your finger on a tape to get rid of most of the gum. Now stick the piece close to the border of your eye, and apply your liner. If you prefer a pencil, which is any day easier to a brush when you are new, remember that gel pencils are a better option as they are waterproof and they create well defined lines. However, if you still prefer the other pencils, melting them can give you a better glide for multiple coats.
In the Makeup tips, Perhaps the next most complicated thing on the eye is the lashes. Remember, that the shine is not as important as the curl. You can have the lightest make on your lashes but good curls that stand out. If you have small lashes, you need to get to learn the art of wearing eyelashes. Using a bobby pin to apply glue could be a good way to prevent mess.
But if you are not comfortable with fake lashes, translucent powder could do the makeup tips & trick, making your lashes look more voluminous than they are.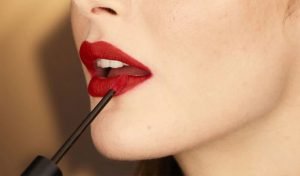 Finally, you're Lips
Getting it right with lipstick begins with reconciling of the fact that not all colors are for you. A color that matches your natural lip tone can never go wrong.
When it comes to experimenting on your lips, remember that the power lies with your liner, so make the most of it. Round your lips, sharpen them, whatever.
While some girls know how to take advantage of their cupid brow, the rest are unaware. Makeup tips A well defined cupid brow can effectively complete the look of your lipstick, so you could start with the brow.
Makeup Tips Now Go Ahead!
And do you want more? The world of makeup tips is vast, so let's begin with practicing these few tips for now. Remember, Makeup tips don't apply anything on your face before a good wash and moisturizing session, use the tips here when you go ahead with your eyes, choose your lipsticks wisely, and most importantly have fun, because when it comes to learning make-up this is the key that keeps you moving every step of the way!