Hello, fashionistas! Welcome back to Mybreezylife for an exciting dive into the hottest trends for Summer 2023. The UK is currently basking in a delightful heatwave, and it's time to refresh our wardrobes and embrace the latest styles. From elevated basics to romantic cottage core vibes, we have a plethora of fabulous trends to explore. So, let's get started and stay fashion-forward this summer!
15 hottest trends for Summer 2023
Here are 15 hottest trends for Summer 2023 that we think can elevate your style and have you looking effortlessly chic all season long! So, get ready to refresh your wardrobe and embrace the fashion-forward spirit of Summer 2023! :
1. Elevated Basics: The New Luxe
Step into sophistication with "Elevated Basics" – the epitome of quiet luxury. Clean silhouettes, refined color palettes, and natural fabrics like cotton and linen dominate this trend. Embrace neutrals such as camel and navy for a timeless and effortlessly chic look. Investing in these pieces ensures your wardrobe is elevated and always in style.
2. Metallics: Shine Bright
Be a radiant star this summer with metallics – specifically, gold and silver. These glimmering hues add a touch of luxury to any outfit. Opt for natural metallic shades for a sophisticated appeal. From metallic accessor ies to shimmering apparel, this trend is here to stay and can easily transition into the coming seasons.
3. All-White Outfits: Classic Elegance
Nothing exudes elegance and freshness like an all-white ensemble. From head to toe, embrace the clean and classic look. Mix and match with other summer trends like elevated basics or crochet pieces to create versatile and timeless outfits for any occasion.
4. Maxi Skirts: Effortless Grace
Flow into summer with the ever-popular maxi skirts. For this season, they are crafted from lighter fabrics like linen, cotton, satin, and silk, making them perfect for warm days. Whether you're attending a garden party or a beach soirée, maxi skirts offer both comfort and style.
5. Crochet and Cobweb Accents: Boho Chic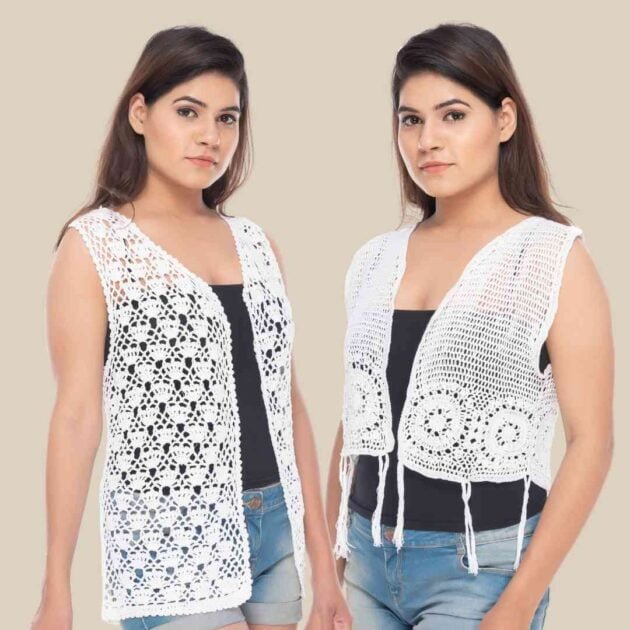 Channel your inner bohemian with the crochet and cobweb trend. Delicate crochet detailing adds texture and femininity to your look. From beach cover-ups to flirty dresses, this trend will elevate your summer style with a touch of playful charm.
6. Cottage Core Vibes: Romantic Simplicity
Escape to the countryside with the whimsical and romantic cottage core trend. Embrace sheer fabrics, lace, and dreamy silhouettes that celebrate a simpler and more peaceful way of living. This trend is perfect for picnics, garden strolls, and charming get-togethers.
7. Kitten Heels: Comfortable Chic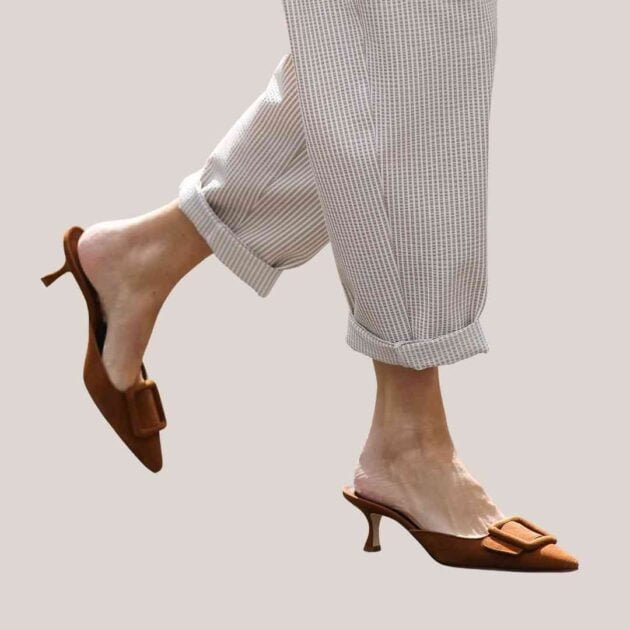 Bid farewell to towering heels and say hello to kitten heels. Offering comfort and style, these vintage-inspired heels provide a touch of height without compromising on your feet's happiness. Embrace the '90s and Y2K vibe with various kitten heel styles, adding a sophisticated flair to your summer outfits.
8. Basket Bags: Natural Charisma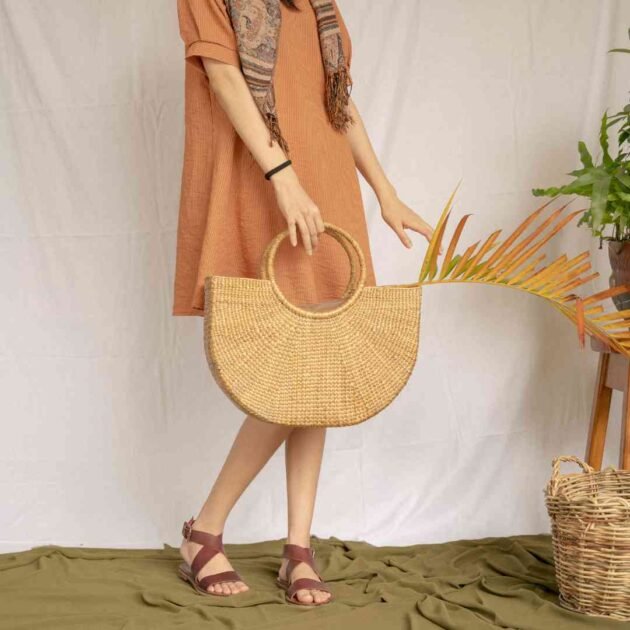 Upgrade your accessory game with basket bags – this summer's must-have. These roomy and natural bags add a touch of charm to any outfit. Whether you're headed to the beach or a brunch date, a basket bag is the perfect companion for your summer adventures.
9. Floral Rosettes: Playful Florals
Floral prints get a delightful twist with stitched-on rosettes. From tops to dresses, these charming flowers add a burst of color and whimsy to your summer wardrobe. Embrace the playful and romantic vibe of floral rosettes for a fresh and youthful look.
10. Bid Farewell to Ballet Flats: Ballet Flats 2.0
Ballet flats evolve into Ballet Flats 2.0 – more styles, more variations. From mesh to strappy and pointed-toe designs, this trend offers more options for lovers of ballet flats. It's a love-it-or-leave-it trend that's making a statement this summer.
11. Serenity Blue: Calm and Cool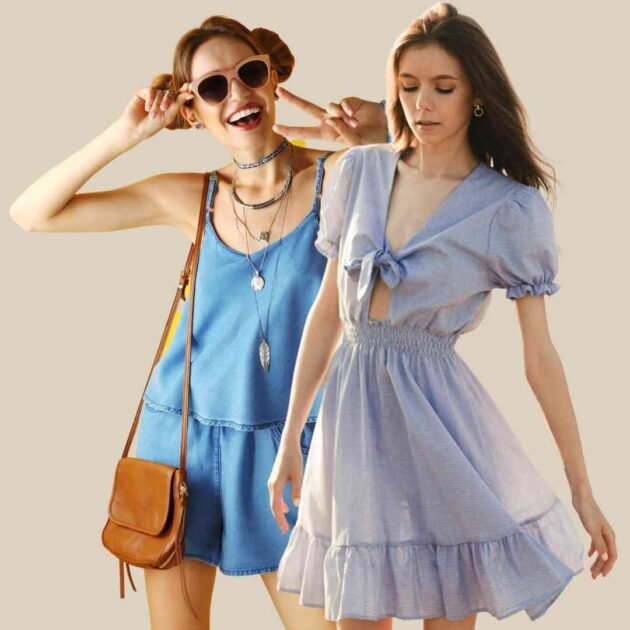 Celebrate the serene beauty of Serenity Blue – the color crush of Summer 2023. This calming hue blends beautifully with various shades and adds a tranquil touch to your outfits. Incorporate Serenity Blue through tops, skirts, or accessories for an instant style upgrade.
12. Natural Fabrics: Eco-Friendly Chic
Sustainability takes center stage with a focus on natural fabrics like cotton, linen, and bamboo. Embrace eco-friendly chic with clothing made from these breathable and planet-friendly materials.
13. Statement Sunglasses: Bold and Glamorous
Level up your summer style with bold and glamorous statement sunglasses. Think oversized frames, colorful lenses, and funky shapes that exude confidence and flair.
14. Vintage Denim: Timeless Charm
Revive the classic allure of vintage denim this summer. High-waisted jeans, denim jackets, and denim skirts add a touch of timeless charm to your wardrobe. Mix and match with modern pieces for a contemporary yet nostalgic look.
15. Sustainable Swimwear: Eco-Conscious Beach Days
Make a splash with sustainable swimwear that honors the planet and your style. Opt for swimsuits made from recycled materials, showcasing unique prints and flattering designs.
With these exciting and hottest trends for Summer 2023 at your fingertips, you're ready to conquer the season with effortless elegance and a touch of your unique style. From embracing elevated basics and shimmering metallics to donning romantic cottage core vibes and playful floral rosettes, these trends will ensure you stand out in the crowd with confidence and flair.
Say goodbye to uncomfortable heels and welcome the comfort of kitten heels, while accessorizing with statement sunglasses and natural basket bags. Whether you're lounging at the beach or attending a garden party, these trends offer versatility, sustainability, and a touch of timeless charm. Embrace the classics, experiment with the new, and have fun with your summer wardrobe. Stay fabulous and fashionable all summer long! Until next time, happy styling!
Read Also: Hijab Fashion Styles for Modern Muslim Women: Tips and Trends