Hello beautiful people, and welcome! Today, I'm going to show you how to achieve the viral latte makeup look that's been taking social media by storm.
What is Tiktok's Viral Latte Makeup Look
"Latte Makeup" refers to a makeup trend inspired by the warm, cozy colors of a latte. It's all about achieving a radiant, dewy, and bronzy look that resembles the creamy hues of a latte coffee. The trend gained popularity on social media platforms, particularly on TikTok, where makeup enthusiasts and beauty influencers started sharing their own versions of the latte-inspired makeup look.
How to do Vira Latte Makeup Look?
In this article, I'll walk you through the step-by-step tutorial to create this stunning Tiktok's viral Latte makeup look in an easy and simple way, so you can have fun with the trend without spending hours on your makeup routine or using tons of products. Let's get started!
Prepping Face for Makeup
The essence of Latte makeup lies in its radiant, soft-focus glow, resembling the warmth and radiance of a summer tan. Unlike a mirror-like, super dewy finish or a completely matte look, Latte makeup strikes the perfect balance between the two. It is often described as "milky and effortless," making it an approachable and versatile trend for makeup enthusiasts of all levels.
So, before diving into the makeup, it's essential to have a well-prepped canvas. After applying your skincare base, consider adding the Charlotte Tilbury Magic Cream for a moisturizing and dewy glow. This luxurious cream not only provides deep hydration but also imparts a luminous radiance to the skin. It's like having a magical potion to awaken and revitalize your complexion.
Additionally, you can enhance the natural glow with the True Alchemy Glow Serum, which provides an extra radiant boost. This serum is a powerful elixir packed with skin-loving ingredients that help to illuminate and nourish your skin. The combination of these two products will set the stage for our latte-inspired makeup journey.
Also Read: Dewy Summer Makeup Look: Effortless Freshness and Luminosity Unleashed
Creating the Dewy Base
The complexion in Latte makeup is crucial, aiming to achieve a glass skin look effect with a subtle dewiness that doesn't overwhelm the overall look. It enhances the skin's natural radiance without appearing too shiny or oily. This glowing complexion serves as the perfect canvas for the rich brown and bronzy eye makeup, which is one of the defining features of Latte makeup.
Therefore, for that dewy and elegant base, we'll use the Say Glowy Super Gel in the color "Star Glow." This gel not only primes the skin but also imparts a lustrous glow, perfect for this look. The lightweight formula glides smoothly onto the skin, leaving it looking fresh and radiant. It's like a secret weapon for achieving that lit-from-within glow that everyone desires.
Followed by the Charlotte Tilbury Hollywood Flawless Filter foundation in a lighter shade to add some color and enhance the glow. This foundation is a hybrid product that blurs imperfections, provides a radiant finish, and adds a touch of coverage. It's perfect for achieving that "your-skin-but-better" look that complements the latte makeup trend flawlessly.
Eyebrows on Point
Achieve a light and natural brow look using the Anastasia Brow Wiz pencil. The ultra-fine tip of this pencil allows for precise and defined strokes, helping you achieve perfectly shaped brows effortlessly. For the latte makeup look, we want the brows to look soft and natural, framing the eyes beautifully without stealing the show.
Gently fill in and shape your eyebrows, keeping them soft and easy. Remember, the goal is to have a natural look that complements the overall glowy aesthetic of the latte makeup.
The Latte-Inspired Eyes
The eyes are the main event of this latte makeup look. All you need is a brown eyeshadow color. Apply it all over the eyelids using a blending brush, creating a soft and smoky effect. The eyeshadow should be subtle, adding warmth and depth to the eyes without overpowering the overall look.
Then, take The Hourglass Eyeshadow Stick in the color "Equinox" and apply it generously to the eyelids for a stunning and dimensional effect. This eyeshadow stick is a game-changer for achieving that captivating sheen on your eyelids. It effortlessly glides on and provides an intense and luminous finish that perfectly complements the latte-inspired makeup.
Defining the Waterline
To bring out your eyes, use a brown eyeliner (e.g., The Hourglass Waterproof Gel Eyeliner in "Cave") on your waterline. This step adds depth and intensity to the eye makeup, making your eyes appear bigger and more defined. The brown eyeliner beautifully complements the overall warm and bronzy tones of the latte look, creating a harmonious and eye-catching effect.
The Perfect Lashes
Curl your lashes and apply your favorite mascara (e.g., L'Oreal Telescopic Mascara) for a beautiful lash lift. This step is optional, as you can also opt for false eyelashes for a more glam look. The choice is yours, but remember that perfectly curled and lifted lashes can make your eyes look even more alluring, drawing attention to your beautiful eye makeup.
Conceal and Highlight
Conceal any imperfections using the Lancome All Over Concealer. Lightly blend it with a damp beauty blender sprayed with setting spray to maintain the dewy finish. This concealer is lightweight and buildable, providing just the right amount of coverage to brighten the under-eye area and conceal any blemishes or discoloration.
Emphasize your best features by applying Giorgio Armani Fluid Sheer Glow Enhancer in the color "10" as a highlighter on the high points of your face. This liquid highlighter is like a radiant potion that enhances your natural glow, giving your skin a luminous and lit-from-within look. Apply it on the cheekbones, brow bones, and down the bridge of the nose for an ethereal glow.
Bronze and Blush
To achieve the hyper bronzy look of the latte makeup, use the Sigma Matte Bronzer in "Dark." Apply it with a brush on the cheeks, forehead, and nose, focusing on the areas where the sun naturally hits the face. The bronzer will add warmth and dimension to your complexion, making it appear sun-kissed and radiant.
Add a touch of the Sigma Blush in "Core De Rosa" to the cheeks to complement the look. This blush has a soft, buildable formula that blends seamlessly into the skin, providing a natural flush of color. The warm undertones of the blush work harmoniously with the bronzy and dewy elements of the latte makeup.
Latte Lips
Complete the look with a natural lip liner, such as the Peripera Rosy Nude Lip Liner, to enhance your lip shape. This lip liner perfectly matches the natural color of your lips, making them look fuller and more defined. The subtle rosy hue adds a touch of color without overpowering the rest of the makeup.
For that just-drank-a-latte appearance, use the Peripera Ink Glassing Lip Gloss in the color "O2" on your lips. This lip gloss has a glossy and glassy finish, giving your lips a luscious and hydrated look. The hint of shine and color completes the latte-inspired makeup, tying the whole look together.
Finishing Touches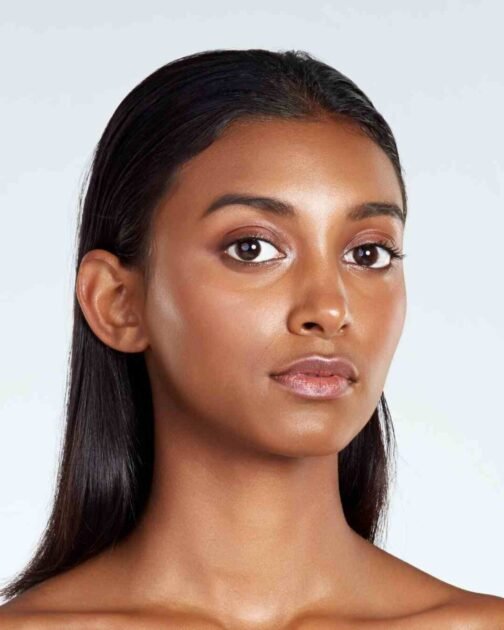 Set your makeup in place with a spritz of Makeup Forever Mist and Fix setting spray. This step ensures that your latte makeup stays fresh and radiant throughout the day. The setting spray helps to lock in the dewy finish and prevents your makeup from fading or smudging, keeping you looking flawless from morning till night.
Congratulations! You've achieved TikTok's viral latte makeup look. This gorgeous and easy-to-create makeup trend is perfect for summer with its radiant, dewy, and bronzy vibes. Now you can show off your glowing and youthful complexion while sipping on your favorite latte.
The latte makeup look has taken the beauty world by storm for good reason—it's effortless, radiant, and versatile. You can wear it for a casual day out or amp it up for a glamorous evening event. With just a few key products and some simple techniques, you can achieve a flawless and radiant look that's bound to turn heads.
Have fun experimenting with this look and adding your personal touch to it. Whether you're a makeup enthusiast or a beginner, the latte makeup trend is perfect for everyone. Enjoy the compliments and rock this latte-inspired makeup like the true beauty you are! Remember, the key is to embrace your natural beauty while adding a touch of radiance and warmth. Happy makeup-ing!