Looking for easy and delicious Ramadan snack ideas and iftar recipes? Look no further! Ramadan is a month of fasting, prayer, and reflection, but it's also a time for family and community gatherings. Whether you're hosting an iftar party or just looking for a quick and easy snack to break your fast, we've got you covered with some tasty and nutritious options. From savory appetizers to sweet treats, these Ramadan snack ideas and easy iftar recipes are sure to satisfy your cravings and keep you energized throughout the day.
In this article, I am going to share food preparation ideas specifically for easy Iftar recipes that you can make before Ramadan and freeze for later use. I am going to share recipes of samosas, kebab rolls, spring rolls and egg pastries.
Related: Nutella Pecan Rugelach | The Beach House Kitchen
Ramadan Snack Ideas – Easy Iftar Recipes
Here are 4 easy iftar recipes that are not only delicious but also nutritious. These easy iftar recipe ideas are perfect for those busy days when you don't have much time to spend in the kitchen. From savory dishes like Kebab Rolls to Egg Pastries, these recipes are sure to please your taste buds and give you the energy you need to continue your day. So, grab your apron and get ready to cook up a storm with these 4 easy iftar recipes.
Samosa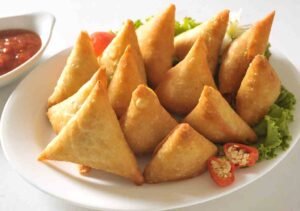 So we are going to start off with putting one pound of ground beef in a pan and then add spices to it. The spices added are salt, red chilli powder, red chilli flakes and cumin powder. Cook the meat until it's tender and then add green onions to it. Mix it well. In the last, add garam masala to it and cook it for 1-2 minutes on medium to low flame. Now it's ready.
To make samosas, use pastry sheets available in the market to save time. Cut pastry sheet into three equal parts. Take two parts of the pastry sheet and seal the ends with egg whites so it doesn't separate while frying. Then start off by taking the corner flipping it in and keep rolling it until it makes this little cone shape. One the cone is ready; fill it up with the meat.
Once you have filled it, push the mixture in with your thumb so it does not come out. Now take the long side and bring it over to cover one side of the triangle. Flip it and bring the long side again. Flip it over on the triangle and then once you get to this last bit where there's not a lot to fold, dip into the egg white and seal it closed. Your samosas are ready. Freeze these samosas for Ramadan.
Spring Rolls
Take some oil in a pan and heat it. Add half shredded cabbage into the pan and let it cook. Cook it for 1-2 minutes, then add shredded carrots and shredded chicken to it. The chicken is already boiled, so it won't take much time to cook. Cook it for some time and add spices to it. The spices added are salt, black pepper, garlic powder and chilli powder. Mix it well and cook for 2-3 minutes.
Use pastry sheets for making spring rolls too. Use the full sheets for making spring rolls. Fold one corner of pastry sheet and put filling on it. Now what you do is you fold one over and then you keep rolling.
Now when you get to the second part, you take the corners and fold it in so you have a little roll and then you hold that and flip it over again. Keep rolling and as you're rolling you take the sides inside and roll all the way till you get to the top. Seal it with egg white.
Kebab Rolls
This recipe is super easy to make. You do not need to pre-cook anything for this recipe. For this recipe, you can take pre-cook kebabs available in the grocery stores. They are already cooked. All you need to do is just to heat them up. There are ready to cook parathas available also. For your convenience, take these parathas and cook in a pan in just a minute.
Take some kebabs on the baking tray and bake them. In the meantime, cook parathas. Now when kebabs and parathas are ready, you just need to assemble them. Take a paratha and put sauces on it. You can put any sauce of your choice like mint sauce , tamarind sauce or just some ketchup.
Take your kebab and place it on the paratha. Also put some onions or any other veggie you want. Just roll the paratha and keep it in parchment paper. You can also freeze these parathas.
Egg Pastries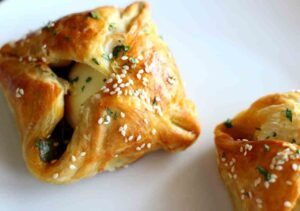 For egg pastries, just boil a couple of eggs and once they're done hard boiling then we will assemble the pastry. Peel the eggs and then cut all the eggs into half. Use puff pastry dough sheets for this recipe. Take one sheet and put one half egg onto the sheet and season it with salt and pepper. Once you season it, take the egg and flip it over and then take each side and fold it over. The egg pastry is ready.
Pack these egg pastries in a Ziplock plastic bags and freeze them.
Meanwhile you can also enjoy our 4 Healthy Ramadan Suhoor Recipes Ideas also because of Broccoli Nutrients and Benefits for Better Health you can enjoy Carrot and broccoli soup at your Iftar time.