Drops of Youth Anti-Aging Bouncy Sleeping Mask – Best Product to Rejuvenate skin after 30
After 30s most of the women are worried about wrinkles on their face. Even though nowadays you can fight with aging effects on your face with some expensive facial and laser treatments but these treatments are not easily affordable by normal or mediocre ladies. Some of them try to gather their money by hard working and make their dreams come true. However, there are still some who just dreamt about these treatments but cannot do anything about the increasing effects of aging or may be go for some cheap products and treatments which eventually affect their face badly. I don't mean that all the inexpensive products have bad effects. I myself is 33 years old and never wanted to try expensive treatments on my face because I do not want to be habitual of these surgeries and treatments. Therefore, I always keep myself busy in searching some good products which are affordable and simultaneously having greater impacts to rejuvenate the skin. Last month I found this Product by the Body Shop "Drops of Youth Anti-Aging Bouncy Sleeping Mask"
Drops of Youth Anti-Aging Bouncy Sleeping Mask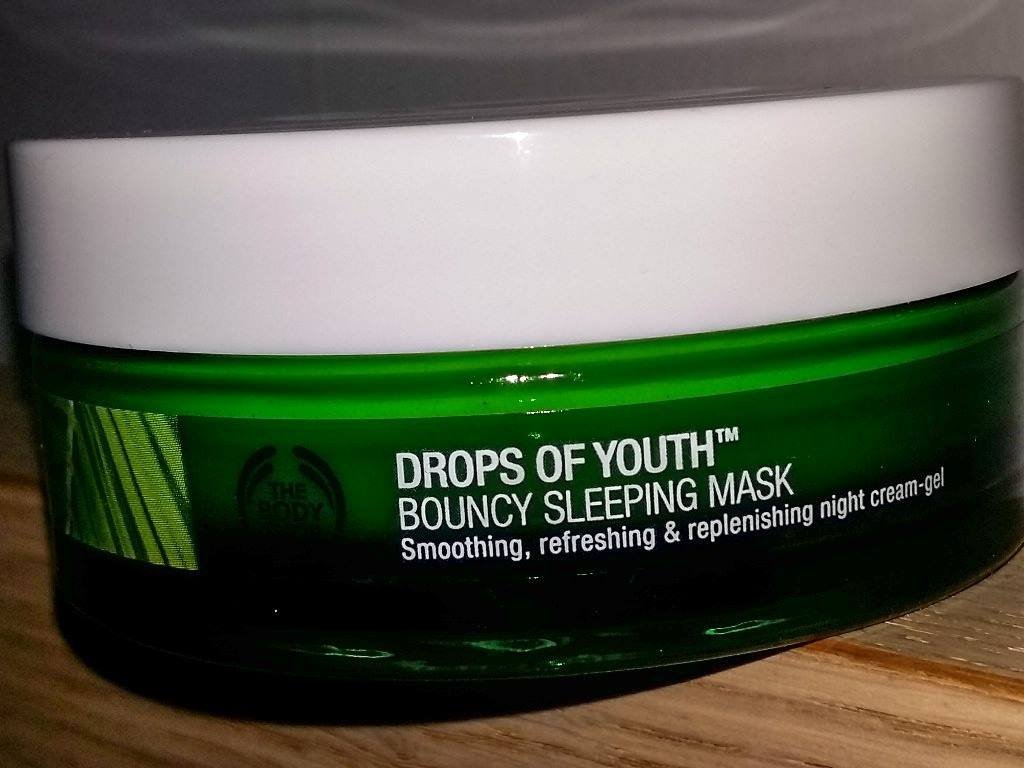 I found this product really effective and since been last month I am using it every night. Here I am sharing my honest review about this product. Please remember this is not a paid review and every skin has its own texture plus the environment and climate of your region does definitely have effects on the products you apply on your face.
I initially started using this Drops of Youth Anti-Aging Bouncy Sleeping Mask on alternate nights because I wanted to understand if this product suits my skin or not. Most importantly I wanna tell you I am living in United Arab Emirates so normally nights are not cold enough here and nowadays temperature is also normal means it is not hot. So let's get back to the review. Also would like to tell due to my hectic routine I was not treating my skin properly therefore my skin texture was not good or welcoming anyway.
Honestly speaking I don't like the texture of the cream its kinda very puffy and jello like and sticky cream and first night I really don't feel comfortable while sleeping because I was feeling that something is not absorbing even though it was absorbed properly (So please ensure to take small quantity of the cream otherwise you will feel uneasy because of stickiness). However, despite I didn't take proper sleep last night but when I woke up in the morning and was still in my bed first thing what I noticed was that my skin feels very slippery and when I saw mirror I found its very glowing as well. I washed my face with cold water and the face wash and believe me first night effect was really good. I gave a one night gap and applied the cream on alternate night and started using every day and guess what I was not bothering anymore about the this greasiness of the cream after observing the end results on my skin . After properly using for almost less than a month I found my skin is very glowing and alive as if my skin is youthful and firm again and I found slight difference in my complexion also, it's getting even and the crow feet near my eyes are also gone.
Well I am quite happy with the end results of the cream but I do not like few things about this cream.
Ingredients of the Cream:
Aqua/Water (Solvent/Diluent), Alcohol Denat. (Solvent/Diluent), Glycerin (Humectant), Chondrus Crispus Powder (Abrasive), Propanediol (Viscosity Modifier), Sodium Hyaluronate (Humectant), Benzyl Alcohol (Preservative), Fagus Sylvatica Bud Extract (Skin Conditioning Agent), Aloe Barbadensis Leaf Juice (Skin Conditioning Agent), Adenosine (Skin-Conditioning Agent), Parfum/Fragrance (Fragrance), Linalool (Fragrance Ingredient), Crithmum Maritimum Callus Culture Filtrate (Skin Protectant), Orbignya Oleifera Seed Oil (Emollient), Citric Acid (pH Adjuster), Citronellol (Fragrance Ingredient), Buddleja Davidii Extract (Skin-Conditioning Agent), Malva Sylvestris Flower/Leaf/Stem Extract/Malva Sylvestris (Mallow) Flower/Leaf/Stem Extract (Skin Conditioning Agent), Thymus Vulgaris Flower/Leaf Extract/Thymus Vulgaris (Thyme) Flower/Leaf Extract (Skin-Conditioning Agent), Benzoic Acid (Preservative), Sorbic Acid (Preservative), Limonene (Fragrance Ingredient), Sodium Benzoate (Preservative), Potassium Sorbate (Preservative).
Things I do not like about Drops of Youth Anti-Aging Bouncy Sleeping Mask:
The quite heavy and big jar it takes too much space in my cupboard.
• Texture of cream is slightly greasy
Things that really impressed me:
First night result after applying this cream was really impressive because normally this type of cream takes one week time to show the slightest effect.
My skin is very silky, smooth and glowing.
It is easily affordable not expensive
I am really impressed with the end results of the Drops of Youth Anti-Aging Bouncy Sleeping Mask and had bought following few product range as well:
Drops of Youth Anti-Aging Facial Serum
Drops of Youth "Youth Cream"
Drops of Youth Eye Concentrate Eye Cream
Some of the best beauty tips and tricks for your Skin
To have healthier skin please follow following tips:
In morning wash your face with cold water
Twice a week wash your face with the mixture of 1 tablespoon Apple Cidar Vinegar and 1 cup of cold water it will close your open pores its a best toner as well
Once a week massage on your face with olive olive it will improve complexion.