We Asians are fond of Chicken Biryani, be it a Sindhi biryani, Bombay biryani or Hyderabadi biryani, it doesn't really matter for us. We love Biryani in any form and all we want is to eat a delicious Chicken Biryani. Therefore, in order to make perfect and mouth watering Biryani we try several branded or homemade Biryani Masala Recipe.
Chicken biryani is a life of every dining table. Any Asian event or occasion is incomplete without Biryani. For me, my eyes always search for Biryani in any luncheon or dinner. Whenever my sisters invite my at their place, I often request them to cook Chicken Biryani beside all the dishes whatever they are cooking.
In order to cook a best Biryani, Biryani Masala Powder plays an important role. Adding right amount of spices is equally important because all of these Indian spices that are used in preparation f Biryani has its individual flavor and aroma. Therefore, it is important to consider right quantity of spices, increasing or decreasing quantity of spices can change entire taste of Biryani.
In order solve our this problem nowadays there are several Biryani Masala's powders from different Brands are available in the Market that makes every recipe similar and there is no uniqueness in taste. Most of the time on several get togethers tastes of Biryani are almost same that doesn't express any Uniqueness of the Cook or Chef. And it is only because of the reason that almost all of us are using same favorite brands Biryani Masala Powder.
Homemade Biryani Masala Recipe:
Therefore, today I brought to you a Delicious Homemade Biryani Masala Recipe which will definitely bring a unique and special taste to your biryani with its mouth watering taste and aroma. This recipe of Biryani Masala Powder is very easy. I have often seen people using lots of Spices for their Biryani Masala Powder that hurt our stomach worse.  Keeping this in mind I have made Biryani Masala powder with limited amount of spices so that it should not irritate our stomach.
Lets begin with the recipe of Biryani Masala Powder, first of all note down all the ingredients that will be needing during preparation:
Prep Time: 5 Minutes
Cooking Time: 1 to 2 minutes
Serving: 18 to 20 Person
Ingredients:
4 to 5 Cinnamon Stick (1 inch each)
2 Nutmeg
3 black cardamom
2 tbsp. Cumin Seeds
2 medium size Bay leaves or 1 large bay leaf
1/2 tbsp. black pepper corn
15 to 20 Cloves
2 tbsp. Coriander Seeds
8 to 10 Green Cardamom
2 tbsp. Fennel Seeds
4 Star Anise
1 inch stick of mace
Method:
First of all clean all the ingredients one by one.
Take a clean pan and dry roast all ingredients in a Pan. You can either dry roast each ingredient individually or all together. It is completely your own choice. I've roasted all spices together, it saves time and combined aroma of all spices gives such a feeling that I cannot express in words.
Roast for about a minutes. After 1 minutes you will start smelling a pleasant aroma of the spices. Make sure not to burn the spices.
Remove it from stove after 1 to 2 minutes
Let it cool for Sometime than grind these roasted spices in a mixer. If you can grind with the help of Mortar and pestle it will bring traditional flavor to the Homemade Biryani Masala Recipe.
After Grinding its time to add some more additional spices. Lets add following additional spices to the Homemade Biryani Masala Recipe:
Additional Ingredients:
1 1/2 Tbsp. Red Chili Powder (You can add more according to your taste)
1 tbsp. Turmeric Powder
1 tbsp. Red Chili Flakes
Salt to Taste (I am using Pink Himalayan Salt, You can use as per your choice)
1 1/2 Tbsp. Ginger Powder
10 to 12 Dried Prunes. Its completely optional, one of my friend brought it from Pakistan and gifted me so I am adding dried prunes in the biryani Masala.
Mix it well and store homemade biryani masala powder in air tight jar so that its aroma and taste shall be preserved for longer duration.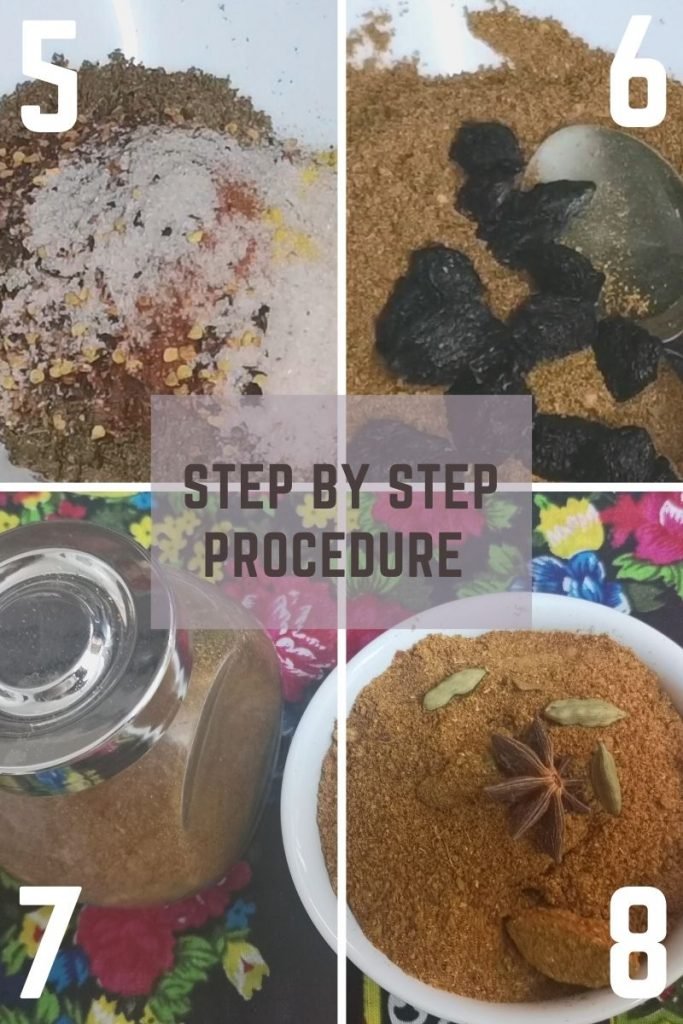 This homemade biryani masala powder can be store for a month or two. Moreover, the aforesaid homemade biryani masala recipe is sufficient for chicken biryani for 18 to 20 persons.
Some people also add dried whole spices in the homemade biryani masala powder while storing it. You can add as well. But I love to add additional whole spices separately while preparation of Chicken Biryani therefore, I don't add whole spices at this moment.
You can always increase or decrease quantity of spices as per your Choice. Try this recipe and leave your feedback in below comment section.
Watch our Video on Youtube – Biryani Masala Recipe