Dealing with sensitive skin can be quite a challenge, given its heightened reactivity to environmental factors and skincare products. Many individuals with sensitive skin struggle to find products that won't lead to irritation or redness. The good news is that there are natural remedies available to help soothe sensitive skin and offer relief. In this article, we will share how to soothe sensitive skin at home in just 4 steps. Let's begin by discussing ways to avoid hypersensitivity, including factors that commonly trigger it. After that, we'll explore ways of calming, moisturizing, and shielding delicate skin—featuring a selection of top skincare suggestions and products.
Meanwhile you can also read Skin Cycling – Viral 4 Day Skincare Trend
Understanding Sensitive Skin
Sensitive skin is known for its heightened reactivity to external stimuli, often leading to issues such as redness, itching, dryness, or even acne. Choosing products that address these concerns while being gentle enough to prevent further irritation is essential. Here is 3 ingredients that can effectively soothe sensitive skin:
Soothing with Aloe Vera
Aloe vera stands out as one of the best natural remedies for sensitive skin. This plant boasts soothing and cooling properties that effectively calm inflammation and reduce redness. Simply apply the gel from the aloe vera plant directly to sensitive areas for instant relief. It also provides essential hydration and moisture, promoting the health and nourishment of your skin.
Cooling Cucumber for Irritated Skin
Cucumber is another excellent choice for soothing sensitive skin. Its high water content contributes to skin hydration, while its cooling properties effectively reduce inflammation and redness. You can opt to place cucumber slices directly on your face or blend it into a paste for a soothing facial mask. Whichever method you choose, cucumber provides a refreshing and calming experience for sensitive skin.
Oatmeal for Gentle Exfoliation
Exfoliation is a crucial step in any skincare routine, but it can be a tricky process for individuals with sensitive skin. Harsh exfoliating products can lead to irritation and further skin damage. However, oatmeal offers a gentle and effective alternative. Its natural exfoliating properties help remove dead skin cells without causing irritation. Mix oatmeal with warm water to create a paste, gently massage it onto your skin in circular motions, and rinse off with water. The result? A smoother and softer complexion.
Related: What are the benefits of using facial roller in skincare routine?
How to Soothe Sensitive Skin at Home in 4 Steps
Are you aware we are able to soothe delicate pores and skin naturally at dwelling with few elements. The cleaning, toning, and moisturizing processes of this skincare routine use pure and mild elements. I will even share different skincare recommendations on using pure moisturizers, toners, serums or masks to extend hydration and cut back redness.. Keep scrolling this article as I am going to reveal a magical skin care routine for sensitive skin that will help you to achieve flawless, heathy and glowing skin without irritating your skin. So, let's get started.
1st step – The Gentle Cleanser's Role
To soothe sensitive skin effectively, start with a gentle cleanser. Look for fragrance-free options specifically formulated for sensitive skin. Fragrances can aggravate sensitivity, causing irritation and redness. Cleansers with soothing ingredients like aloe vera, chamomile, or oatmeal can help calm inflammation and remove impurities without stripping the skin's natural moisture barrier. Our favorite is Cetaphil Gentle Skin Cleanser. You can also make your own face wash powder using the mentioned ingredients below.
Ingredients:
2 teaspoons chickpea powder
1 teaspoon neem powder
1 teaspoon aloe vera powder
Mix all these powders and store in a container. You'll be able to store this for as much as 1 month. Take a half teaspoon of this powder and blend it together with your face wash after which apply to your face. This is also a natural alternative to exfoliator as it also removes dead cells from your skin.. This is best for sensitive skin as it does not cause any rashes or redness like other chemical exfoliators available in the market.
2nd Step – Applying Tonner
After washing your face, apply toner. Toner balances the pH of the skin and also removes other impurities. our top pick is Thayers Alcohol-Free Rose Petal Witch Hazel Toner, it is an excellent choice as it contains soothing rose petal extract and witch hazel to calm and tighten the skin, reducing redness and inflammation but you can also make natural toner at home using the following ingredients.
Ingredients
½ cup fresh cucumber juice
¼ cup rose water
Mix both of these ingredients and store it in a bottle in fridge. Use this toner after washing your face. Apply toner to your face using cotton pads. Remember not to rub your face with towel or cotton pads as it can cause rashes or redness on sensitive skin.
Also read: Homemade Tips for Glowing skin in winter
3rd step – Hydration with the Right Moisturizer
Hydration is crucial for soothing sensitive skin. Apply right moisturizer right after the application of toner. Consider buying moisturizer specially designed for sensitive skin. The La Roche-Posay Toleriane Double Repair Face Moisturizer fits the bill perfectly, providing long-lasting hydration and repairing the skin's natural protective barrier. Otherwise, you can also make your moisturizer at home using natural ingredients.
Ingredients
1 teaspoon aloe vera gel
½ teaspoon almond oil
1/s teaspoon glycerin
Mix all these ingredients well until it reaches gel like consistency and then store in a container. Apply it all over your face and gently massage upwards.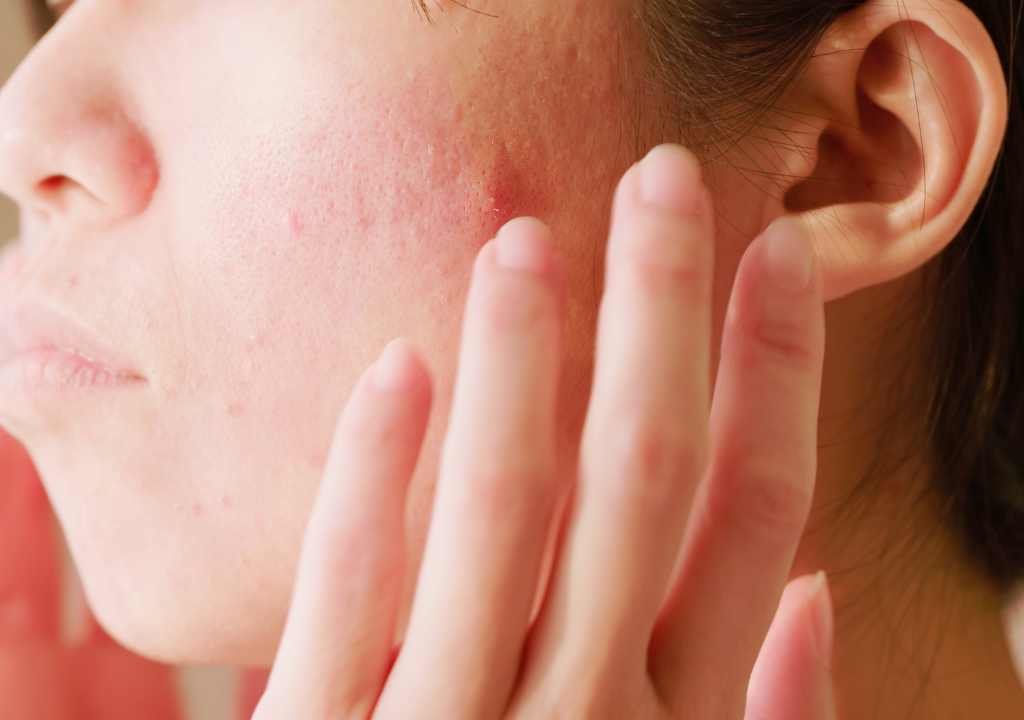 4th Step – Selecting the Ideal Sunscreen
Shielding sensitive skin from the sun's harmful rays is vital, as sun exposure can trigger inflammation and premature aging. Choose "broad-spectrum" sunscreens with a high SPF rating. Opt for a sunscreen that is specifically formulated for sensitive skin, such as the EltaMD UV Clear Facial Sunscreen. Mineral-based sunscreens, containing zinc oxide or titanium dioxide, are generally better tolerated by sensitive skin compared to chemical alternatives. Make a budget friendly and effective sunscreen at home.
Ingredients
¼ cup Aloe vera gel
¼ cup Coconut oil or almond oil
2 tablespoons Zinc oxide powder
1 tablespoon Bees wax or shea butter
Rose essential oil(optional)
Mix coconut oil and bees wax in the mentioned quantities in a bowl and slightly heat it in microwave to mix them properly. Stain this mixture. Let it cool down for sometime. Then add aloe vera gel to it and blend nicely. Add 10-15 drops of essential oil if you would like. Ultimately, add 2 tablespoons of zinc powder to the combination and blend it till it turns into fluffy. Store it in a glass container for a month.
Best practices to adopt to soothe sensitive Skin
Comforting Face Masks and Treatments
Face masks and treatments tailored for sensitive skin provide much-needed relief. Seek out masks with ingredients like cucumber, green tea, or aloe vera, known for their soothing properties. These masks can reduce redness and inflammation, leaving the skin refreshed and rejuvenated. If nothing suits you, then you can only apply aloe vera gel to your face.
Serums as a Vital Addition
Serums can be a game-changer when it comes to addressing specific concerns of sensitive skin, such as redness or hyperpigmentation. The Paula's Choice CALM Redness Relief Repairing Serum is a favorite among skincare enthusiasts. Formulated with soothing ingredients like licorice extract and oat extract, this serum targets redness and calms inflammation, leaving your skin feeling nourished and balanced.
Special Care for the Delicate Eye Area
The thin and delicate skin around the eyes is particularly susceptible to sensitivity. Choose fragrance-free eye creams specially designed for sensitive skin. Ingredients such as chamomile, cucumber extract, and hyaluronic acid can reduce puffiness, hydrate, and soothe this delicate area.
Which products are big NOs for sensitive skin?
As we already know how to soothe sensitive skin with natural ingredients, however; there are few things to keep in mind. Start by using products that are free of fragrances and other potential irritants. The products should also be Alcohol free as it takes out the natural oils out of your skin very harshly. Second, try to keep your formulas as simple as possible while looking for gentle products specifically tested for sensitive skin. This reduces the chances of exposing your skin to potential irritants. .
Do's and Don'ts for sensitive skin
Never use anyone's towel to dry your face. Keep your own separate towel and make sure to use a soft quality towel which is not harsh on your skin. It is best to use tissue napkins for face.
Never keep your face dried after washing your face. Right after washing your face, apply your moisturizer or simply you can apply coconut oil. Always keep your skin moisturized.
Do not use someone else's makeup tools like brushes, beauty blenders. Always use your own makeup tools and frequently wash them.
Your pillow cover contains a lot of pollutants. Keep your pillow cover clean and make sure to frequently wash it. It is best to use silk or satin pillow cover.
Do not leave makeup on your skin for so long as it can further irritate your sensitive skin. Wash your makeup very carefully and then apply toner and moisturizer.
Do not forget your body! Like your face, your body's skin is also sensitive. Always use shower gels or soaps for sensitive skin and they must be fragrance free.
Use fragrance free mild detergents to wash your clothes as they contain chemicals which can cause rashes to skin.
Keep your skin hydrated by maximizing your water intake. Drink at least 3 litres of water every day. If your skin is well hydrated, then it will heal well and more quickly.
I hope you will follow this skin care routine for sensitive skin and will love the results. Remember to be consistent in following this routine because consistency is the key to success. Good Luck!
You may also like to read How to keep Skin Healthy and Glowing Naturally at Home